LEDVANCE Partners with Canwest Agency in British Columbia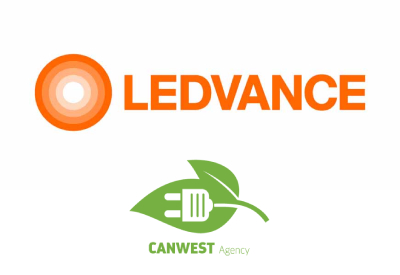 June 2, 2021
LEDVANCE Ltd, the makers of SYLVANIA general lighting in Canada, announced Canwest Agency as its new sales agent representatives for British Columbia. In North America, LEDVANCE LLC offers a wide range of SYLVANIA LED luminaires for various applications, intelligent lighting products for Smart Homes and Buildings, one of the largest LED lamp portfolios in the industry, and traditional light sources.
"We are pleased to have the opportunity to represent LEDVANCE in the Province of British Columbia. The Canwest team is excited to partner with the LEDVANCE team to continue building and growing the SYLVANIA product brand and lighting solutions in British Columbia," says Brian Vulcano and Nazlie Soeker, Principals of Canwest Agency.
"Meeting the needs of our industrial, commercial and retrofit customers is a top priority for LEDVANCE which is why we launched a hybrid model of enhancing our fantastic direct sales team with local agent partners with strong local relationships. By having more feet on the street with our partners at Canwest, we can be even more active, visible, and available for our industrial, commercial, and retrofit customers in British Columbia." said Charlie Harte, President and CEO Ledvance Ltd.
"By working arm in arm with our LEDVANCE sales team, Canwest brings us even more local market expertise in British Columbia to drive sales of our exciting new innovations, including our new fast expanding range of SYLVANIA LED luminaires," said Owen Stephens, Senior Sales Manager, LEDVANCE Ltd.