Recently as of November 20, Stelpro released a post on LinkedIn celebrating their 41st year in business. This post not only celebrates Stelpro's industry position thanks to the quality and innovation of their products, but also thanks employees and innovators for their excellent and hard work. Read More…
SERVICE WIRE – Wire & Cable Solutions: Servicedrive® VFD Cable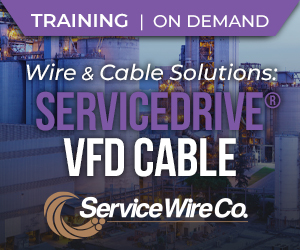 Miss the live session? "Wire & Cable Solutions: ServiceDrive® VFD Cable System " is now on-demand.
Watch the trailer for an overview of this free session.
What is the Harmonized Data Model and Why Does the Industry Need It?
Today's reality:
89% of B2B buyers say they have made an online purchase since March 2020.
97% of online buyers experience some sort of pain point during the e-commerce purchasing process.
85% of B2B Buyers will move to an alternate competitor's site if their distributor's digital channel can't keep up.
Source: Avionos 2022 B2B Buyer Report
Yet, although statistics prove that e-commerce is important to buyers, product data is still often misrepresented or missing key information on e-commerce sites.

Read More
---
Recently as of November 20, Stelpro released a post on LinkedIn celebrating their 41st year in business. This post not only celebrates Stelpro's industry position thanks to the quality and innovation of their products, but also thanks employees and innovators for their excellent and hard work. Read More…

Electro-Federation Canada held their 12th Annual Future Forum with the theme 'Innovation During Disruptive Times: Finding the Crossroads Between Talent and Technology' recently. This popular electrical industry event was held virtually, and attracted a vast section of their membership to listen to a dynamic set of speakers and thought leaders who provided insight into the heartbeat of innovation, a refresh on technology and strategies to help understand the value of collaborative thinking to better serve customers. Read More…
---
Congratulations to Andrew McLaren, this year's recipient of the 2022 Bryan Smith Memorial Scholarship, in partnership with the Electro-Federation Canada Scholarships. Andrew is a second-year student at McMaster University, in Hamilton, ON. He is studying Computer Science and Software Engineering. Read More…

Stelpro are pleased to announce the appointment of Jérôme Potvin as Sales Director, Electrical Distribution – Quebec. He has taken up his new duties as of November 28 and reports to Patrick Charest, Vice President Sales and Business Development. Read More…
---
Schneider Electric, a leader in the digital transformation of energy management and automation, is Canada's top international corporate citizen in 2022. This designation was awarded to Schneider Electric by Corporate Knights, a media and research company committed to advancing a sustainable economy. Read More…

The Sonepar Ontario Region is proud to announce the relocation of their SESCO Central Distribution Centre (CDC) to its new location in Brampton, ON. This move has facilitated an amalgamation between Texcan's large Brampton branch and SESCO's CDC, as both businesses work together within one facility for the first time. Read More…
---
Trending Articles
Canadian Electrical Wholesaler
Published twice monthly on the first and third Thursday of every month Canadian Electrical Wholesaler is the voice of the electrical channel in Canada. The editorial focus of CEW is a solid mix of features, news, articles and product information. Key aspects are peers and profiles and in-depth best management practices ensuring every issue is read from branch level right up to head offices. Simply put we provide the need to know business information including the latest trends, new market opportunities, sales techniques and operational analysis to distribution professionals written by those who live this business and published by Kerrwil founded in 1964 to serve the electrical industry in Canada.