Wesco Shares with Investor Presentation… and More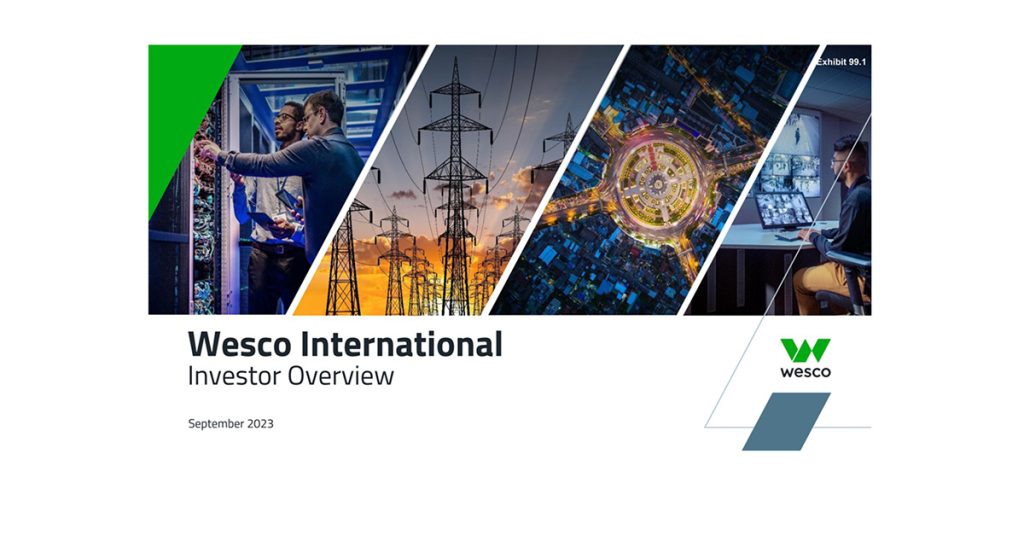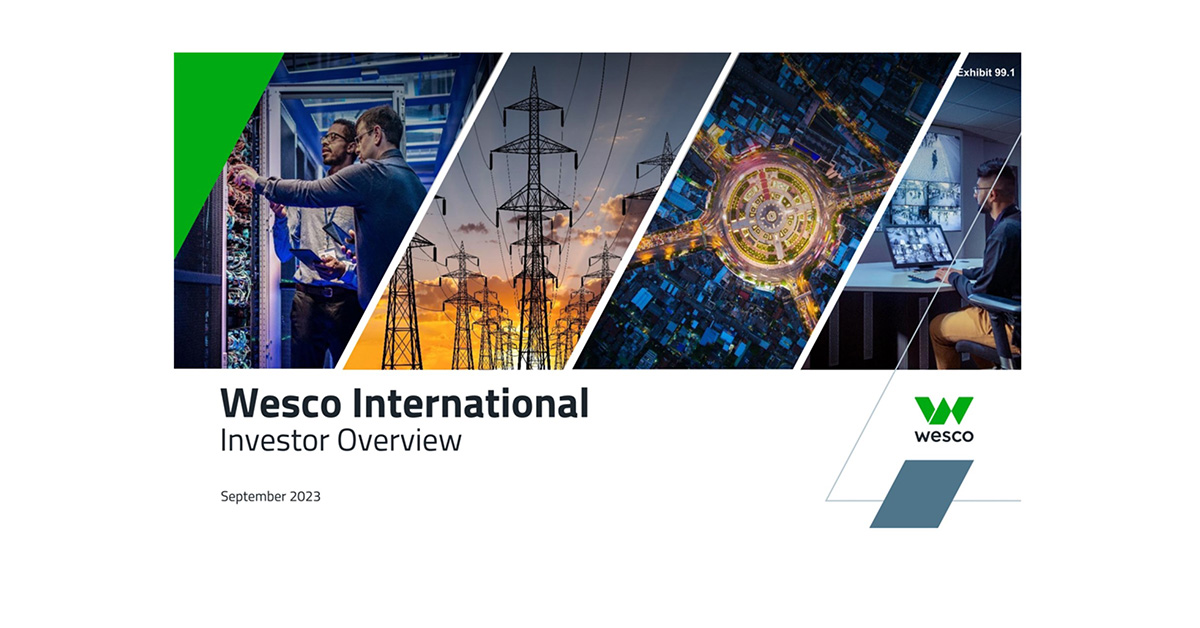 September 20, 2023
By David Gordon, President, Channel Marketing Group
Recently Wesco filed an 8-K with the SEC and they shared their recent Investor Overview which had some interesting information.
Key points, from an electrical viewpoint, included:
While the company finished 2022 with $21.4 billion in sales, 41% of the business ($8.774 billion) is in their EES (electrical) group. Another 30% ($6.42 billion) is their CSS (communications) group and 29% ($6.496 billion) is in their utility (UBS) group.

So, even if all of the EES business was in the US (which it isn't), Wesco is not the #1 electrical distributor in the US. Based upon the 2023 EW Top 150, Wesco would be #4 (as CED is larger) with Sonepar, Graybar, CED all larger and Rexel close behind.
Wesco's diversification positions it well for a number of macro-economic growth drivers – electrification, industrialization, construction, infrastructure, telecom, datacom, utilities)

74% of the overall business is in the US, 14% in Canada and 12% is Rest of World.
In looking deeper at the $8.8 billion EES business:

It does business in over 50 countries
68% of the business is in the US (or $5.984 billion
22% of the business is in Canada (or $1.936 billion)

While Wesco claims it is #1 in North America, the US revenues makes the company #4 in the US and probably similar in North America given that the other companies also do business in Canada.

40% of its EES business comes from the Construction segment (Contractors) and 36% is Industrial and 24% is from OEMs.

This means that, within North America, Wesco's EES business does $3.52 billion in the Construction market, $3.168 billion in the Industrial segment and $2.112 billion with OEMs.

At the time of the report, which was the end of August, Wesco was trending to be up 4% YoY for the 3rd quarter (however, this is across all three segments and, so far this year, CSS and UBS have outpaced EES.) And they expect Q3 to be down sequentially from Q2.
From a business mix perspective, the company is well-diversified:

22% Utility
20% Network Infrastructure & Broadband
16% Construction (probably mostly electrical)
15% Industrial (probably mostly electrical)
10% OEM (probably mostly electrical)
9% Security
8% Other

Wesco believes that is will outperform the market and benefit from Base Market Growth + 1-2% from Secular Trends + 1-2% Share Gain = Mid-Single Digit + Organic Growth

The number of very large industrially-oriented construction projects favors larger distributors due to the ability to finance those projects and their relationships with large contractors, however, as mentioned with the top distributors, there is competition for this business (with many of them exhibiting at NECA.)

The company is investing significantly to enhance its internal systems, integrating tools to develop (and mine) "big data", and develop an omni-channel experience for its customers.
An interesting overview of the company and provides a different perspective of their EES business.
Some other Wesco tidbits:
During Wesco's Q2 earnings call, Wesco shared that they took some personnel actions, to the tune of generating $25 million in annualized savings which is a euphemism for staff reductions. Subsequent to this announcement, in July and August we saw LinkedIn notices of staff changes.
More recently, last week Wesco announced staff reductions in their Wesco Energy Solutions group. Sources shared with us that 93 people were impacted by this action.
Inside.Lighting reported on this staffing change, without having the number of reductions. The article in Inside.Lighting stated:
"Layoffs have reportedly occurred at electrical distribution heavyweight WESCO within its WESCO Energy Solutions group. This unit specializes in providing comprehensive turnkey services ranging from audit to installation, targeting large end-user lighting retrofit projects.

Insiders close to the matter have characterized the scale of these layoffs as substantial. Estimates from those close to the matter suggest that the layoffs have impacted dozens, possibly several dozens, of employees. It has been reported that many of the affected have served various iterations of the WESCO Energy Solutions business for periods exceeding 10 or 20 years. WESCO did not immediately respond to our multiple requests for specific details.

WESCO Energy Solutions' history in the lighting services sector is extensive. The company's involvement started with Sylvania Lighting and expanded with the 2008 acquisition of Amtech Lighting Services. It later evolved into Sylvania Lighting Solutions (SLS) which WESCO acquired in 2019.

To provide further context, in March 2019, WESCO paid $27.6 million to acquire Sylvania Lighting Solutions (SLS) from OSRAM Sylvania. At the time of acquisition, SLS recorded annual sales nearing $100 million and had a workforce of around 220 employees scattered across the U.S. and Canada.

The focus of WESCO Energy Solutions has been on creating turnkey and retrofit solutions, aiming to reduce energy consumption and increase building efficiency. To showcase their recent activities WESCO published the following 2022 accomplishments of WESCO Energy Solutions:

Completion of projects at 4,690 client sites
Auditing of 76 million square feet of space
Securing $4 million in rebates for their customers.

Despite these achievements, the recent layoffs cast a shadow of uncertainty over the future of the group. If WESCO provides us with more specifics on these WES matters or guidance on how customers may be affected, we will update this article.

A search of records with the Pennsylvania Secretary of State, where WESCO Services, LLC headquarters resides, revealed no posted layoff notices as of September 18. In a combination of organic growth and strategic acquisitions, notably the purchase of Anixter, WESCO's overall revenues have surged from $8.4 billion in 2019 to $21.4 billion in 2022."
And speaking of energy / lighting staff reductions, we have heard of layoffs at a number of manufacturers. Some of them have been nominal, others more significant. It appears that, while the market has slowed (as our Q2 Pulse of Lighting report revealed and then projected for Q3 … and take our Q3 Pulse of Lighting survey to get insights from Q3 and projections for Q4), manufacturers may have expected the "good times" from 2020-2022 to continue and that they wouldn't be as impacted from switchgear issues, distributor backlogs and inventory rightsizing as they have been.
Takeaways
While Wesco is large, their strength is in targeted customer segments, probably geographic markets. From an electrical viewpoint, this answers the question of "when is a $21 billion company really a $6 billion company?"
Wesco's diversification provides the company with many avenues for growth and, possibly, at a higher level of profitability than the core electrical market would have.
The energy efficiency and lighting business is challenging. While much probably is due to short-term expectations, some is also probably tied to the speed of decision making. It's also a reflection that publicly owned larger companies tend to have short-leashes.
What are you seeing / hearing in your local market?