Francois Anquetil Assumes Chair of EFC Board of Directors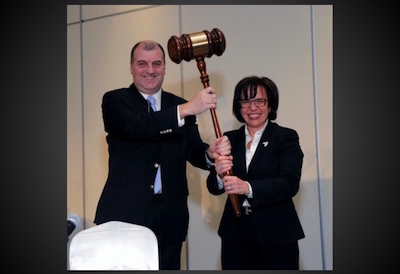 At Electro-Federation Canada's Annual General Meeting on April 13, Francois Anquetil, Sonepar Canada, was announced as the EFC 2016/2017 Chair. At the event, Nathalie Pilon, ABB in Canada, was thanked for her contributions and leadership as the 2015/2016 Chair. In the photo, the Chair's gavel exchange between Pilon and Anquetil.
At the EFC AGM, Pilon, Anquetil and Jim Taggart, EFC President & CEO, thanked retiring EFC Directors Jean-Sebastien Bercier, Kevin Mallory, Pierre Charron, and Tim Horsman.