Thomas Supinski and Mark Kulynych Receive AEA 2020 Emerging Leader Award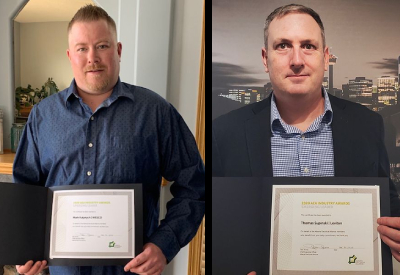 May 4, 2021
A big congratulations to Thomas Supinkski (right) of Leviton Canada and Mark Kulynych (left) of WESCO Distribution on receiving our 2020 Emerging Leader Award!
"Thomas embodies what it means to be a leader. His drive, pursuit of growth and resilience in the face of challenges are inspiring," said the AEA via LinkedIn.
"Mark is a leader within the industry and beyond. When he's not working hard at WESCO, he's on the ice volunteering his time to coaching hockey and helping to shape the next generation of emerging leaders," the AEA said.
"I'm extremely humbled and honoured as the recipient of the AEA's 2020 Emerging Leader Industry Award," Thomas commented, "As I reflect back to 2003 when I first entered the electrical industry, I'd never have imagined receiving such a respected accolade. This award signifies a significant step in my professional journey and the acknowledgement of my peers only strengthens my desire to build upon the foundation provided by groups like the AEA. Over my career, I've witnessed many technological advancements and evolving trends but our core strength remains within the network of people in our industry.
I'd like to personally thank the AEA for their continued leadership in the Alberta Electrical Industry, whether it be a social event, tradeshow, or the latest industry training; their contributions of giving back to the community are very much appreciated and inspiring. Our industry thrives because of your commitment to the growth and development of its members and their families. You've created a community of support of which my eldest daughter Aimee was a successful recipient in 2018; supporting her in her own dreams and aspirations. The AEA has had a positive impact for me both personally and professionally and for that I'm extremely grateful.
I've been fortunate to work with fantastic mentors and peers in a great organization that has supported and encouraged my growth within the electrical industry. As a leader, I'll leverage what I've learned and the experience I've gained to further develop and enhance the overall strength of the electrical industry in Alberta.
I'd be remiss if I didn't mention the unimaginable struggle thrust upon us by Covid-19 and its impact on our industry and the world. As we work through the impacts, both personally and professionally, I firmly believe that out of adversity comes the opportunity to better ourselves and create a stronger more resilient industry for us all."
Mark commented, "Please know it's an absolute honour to have received the Emerging Leader Award, especially amongst the calibre of characters who make up this industry. I enjoy very much working with the people I do both at WESCO, where I'm part of an incredible team, as well as with the many of you I have the pleasure of doing business with in this ever changing market. I'm very fortunate to enjoy what I do for a living.
I've also met a lot of great people in the game of hockey from this industry, I've coached some of my peers' children and coached against some of my peers in minor hockey as well. This industry has brought a great pleasure to my family and I, and in the past decade I have met so many great people, some of which are my closets friends to this day. I take pride in keeping athletes in the community interested in the best game in the world!"
Go
HERE
for more information