Infrared LED Market to Exceed US$1 Billion by 2026
July 8, 2020
The global Infrared (IR) LED Market size surpassed US$500 million in 2019 and is estimated to grow at over 10% CAGR between 2020 and 2026, according to a new report by Global Market Insights. Global shipments are projected to reach 8 billion units by 2026.
IR LEDs are special purpose light emitting diodes that radiate IR signals at more drawn out wavelengths. These devices allow cheap and efficient production of IR light and can deliver electromagnetic radiations in 700 nm to 1mm range. IR LEDs are used in a wide range of signal transfer systems, including remote control of television, infrared cameras for surveillance & night vision, etc. These LEDs are gaining high traction in the electronics sector because they generate less heat and power compared to other LEDs.
Prominent players in the IR LED market include Epistar, Everlight, Vishay Intertechnology, Inc., Raytek Corporation, Lite-On Technology, and Osram. The industry leaders are focusing on the development of application-specific infrared products, such as automotive, biometric applications, and surveillance cameras, to gain competitive edge in the market. For example, in October 2019 Everlight Electronics announced the launch of three new IR LED products for driver face recognition and smart automation feature in vehicles.
Rising trend toward smart cities will fuel market demand in surveillance applications
Surveillance applications dominated a market share of over 40% in 2019, says Global Market Insights. The dominance is attributed to rising integration of infrared cameras and CCTV cameras in smart cities. These LEDs are widely integrated into CCTV cameras owing to their night vision and low light level benefits. Also, the integration of infrared LEDs into cameras offers high optical output, wide emission angle, and near filed visibility, driving the market opportunity in smart city application.
Several nations are taking initiatives to integrate smart city applications to enhance their infrastructure and surveillance systems with the integration of cameras to procure real-time data. For example, the adoption of Smart City Mission by the Government of India — a program for urban infrastructure — will support real-time decision-making for smart services such as energy usage, parking, and traffic lights. The growing implementation of smart cameras and IoT technologies across smart city infrastructures will increase the demand for infrared LEDs in cameras, further supporting industry growth.
Smart homes and offices creating new markets
The rising trend for smart home and smart has also provided opportunities for the IR LED market players. The IR technology is experiencing a rising implementation in smart homes for remote control of TVs, music systems, and lighting, driving market growth.
The infrared LEDs offer several benefits, such as compact size, invisible infrared output, and rugged construction, making them ideally used for security and military applications. In the military sector, these devices are used for security cameras, night vision systems, and night vision goggles. This will create opportunities for companies to develop new products with innovative features and increase their market shares.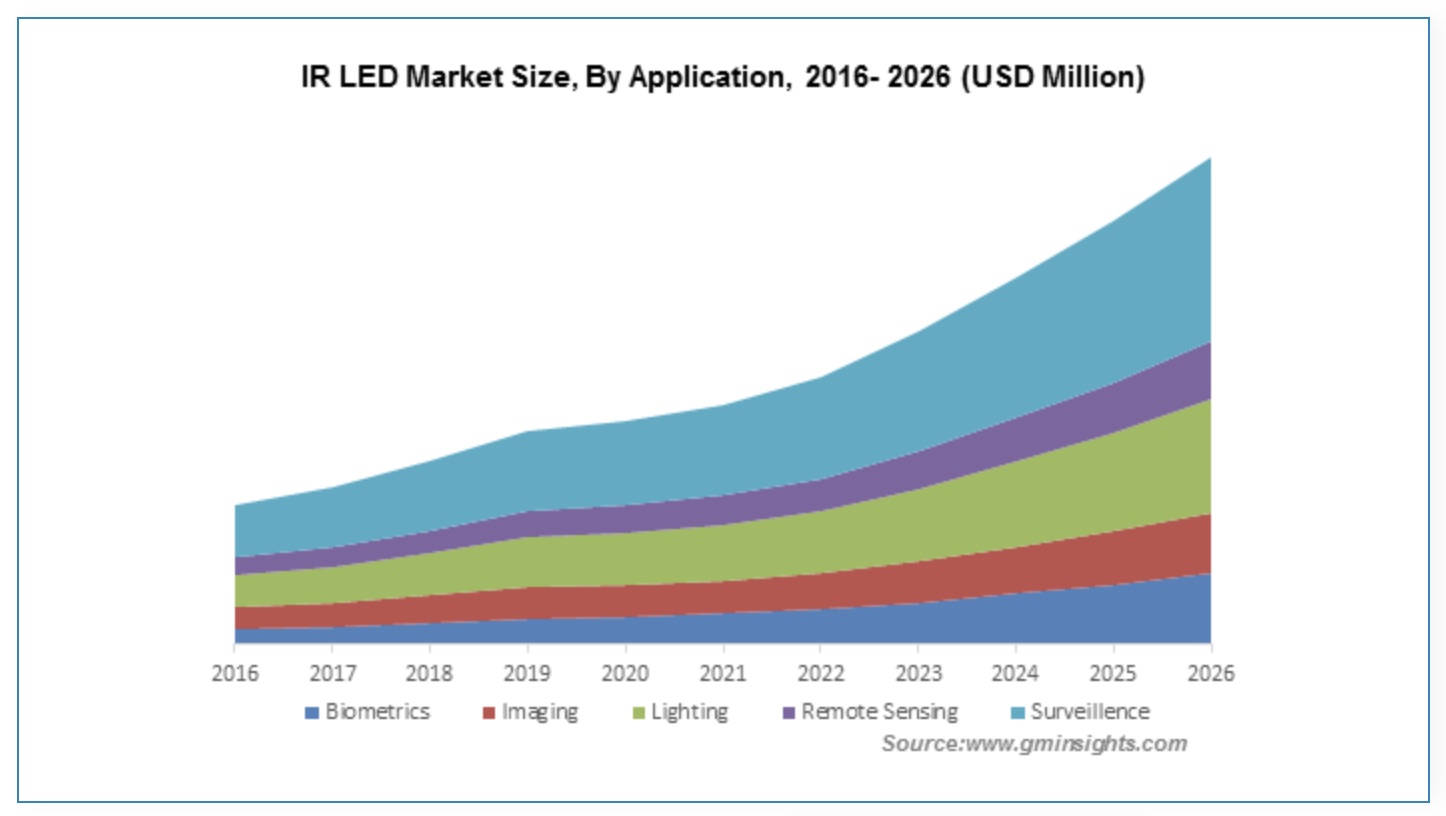 The 850nm-950nm spectral range segment in the IR LED market held a revenue share of 50% in 2019 and is expected to witness over 10% growth until 2026. The growth is majorly attributed to its rising adoption in the automotive industry for night vision, gesture recognition, among others. The rising concern toward road safety in developing nations has led several automakers to deploy advanced electronics systems in vehicles. This will increase the integration of 950nm-1,020nm infrared LEDs and positively influence the market demand.
The companies in the industry are focusing on enhancing their product offerings for IR LED in automotive-specific applications, creating significant growth opportunities in the coming years. The 850nm IR LEDs are used for outdoor applications such as pedestrian protection, lane recognition, apron detection, and night vision, whereas the 940nm type is suitable for interior vehicle applications including gesture recognition, seat occupancy, and driver monitoring. In addition, the company also opened new manufacturing plants in Germany to expand the production capacity.
However, due to COVID-19 pandemic, the majority of auto players worldwide have shut down their manufacturing plants and reduced their production capacity. This is majorly owing to uncertainty in raw material supply and decline in demand from consumers. This is likely to decline the IR LED market share in the automotive industry.
The biometric application segment accounted for around 15% market share in 2019. The growing implementation of biometrics for face recognition and iris recognition in smartphones and security systems is creating high growth opportunities for infrared LEDs. These devices help to improve the accuracy of recognition systems on devices, driving their demand in the IR LED market.
The rising adoption of digital banking and mobile payment services has increased the deployment of biometric applications. These LEDs offer high reliability and security authentication for customers to perform digital transaction, creating high growth opportunities. In February 2018, the Bank of China Hong Kong announced the integration of figure vein authentication system into 160 ATM machines in 18 districts of China. This system uses near IR LED technology to scan the finger and identify the unique vein pattern of users.