Electrozad Announces New Appointment of Eric Fabbro as Account Representative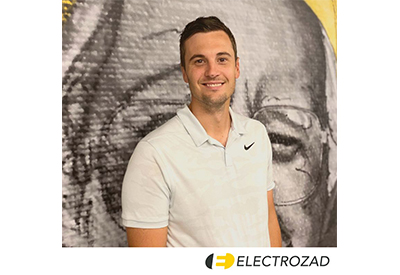 August 30, 2022
Electrozad has recently welcomed Eric Fabbro, Account Representative, to the Electrozad team. Eric brings with him 8 years of experience working as a Controls Technician and over 4 years as a Project Manager. Eric will be the primary source of expertise and guidance for many of Electrozad's key accounts, and they have expressed confidence that his experience and skills will result in new opportunities and growth.
Outside work, Eric is a self-proclaimed sports nut with a genuine love of golf. He and his dad and two brothers try to golf at as many different places as possible. A few of the most notable courses they've played a round include the Old Course at St. Andrew's and Carnoustie in Scotland and Pebble Beach in California. He is the reigning champ of their annual family golf tournament (though his family would debate this). Eric also loves spending time with his wife of 10 years and his 2 wonderful kids.
"Right now, learning all about what Electrozad does is most interesting to me. We do so much more than I realized. I'm extremely excited to be a part of this team, and I can't wait to see what the future holds for me at Electrozad!" – Eric Fabbro, Account Representative.