Procore Groundbreak Conference 2022 Insights with Will Lehrmann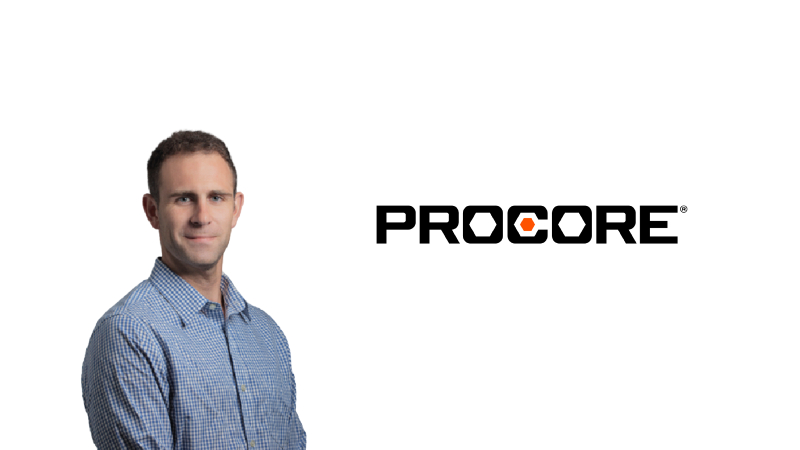 January 4, 2023
By Elle Bremmer
The Procore Groundbreak conference was held last month in New Orleans, Louisiana with a central theme of big ideas, getting to work. Over the course of 3 days, over 3,600 people attended the highly anticipated event. Major players of the construction industry were there, and Procore revealed new updates to its construction management platform, including Procore Pay and Procore Connect on Drawings, which you can read more about here.
I had the pleasure of sitting down with Will Lehrmann, Head of Product for Procore to discuss the conference, updates made to the platform, as well as industry insights.
The convention centre where the conference was held was noticeably busy, and I asked Will about the level of interest in this conference, particularly as we are coming out of the Covid pandemic in full swing. The interest for in-person events has climbed steadily higher, and I also asked Will what specifically draws people to this event.
"I'll say we've always had an awesome turnout for Groundbreak. One of the things that's unique is our innovation lab. We bring our product and technology teams to Groundbreak and we have booths set up where customers can come and give us feedback on our products, see the new exciting things we're working on, and you just don't get that level of access to product technology teams at a lot of conferences."
He continued by saying that spirits are high "just by being in person, being back in New Orleans, I feel like people are just excited to be here."
Guests at the event backed this sentiment up, as both vendors and conference attendees enjoyed the event, citing interactive elements of the conference being of high interest, alongside networking and connection opportunities that are more difficult to cultivate via online only events.
Following up on the hype of the event, I asked Will what the biggest barriers of pandemic have looked like for Procore, and how it has set itself apart in the industry to overcome those hurdles and to be where the company is at now, especially given a smashing third quarter report.
He responded, "you know, even before COVID, we worked well remote. We have offices distributed around the world. And so, I think we built up a strong muscle of working collaboratively, digitally, using a lot of great software to connect and stay connected as teams, [and we] got really comfortable working remote, even before the pandemic. Of course, [the pandemic was] challenging for every business, but I think we were able to manage it pretty well."
He also cited the company culture, stating that he gives nothing but "just huge credit to Procore culture and leadership. They put a lot of emphasis on keeping us connected and finding ways to break down some of those remote challenges and barriers. So, I think we've done phenomenally well."
The company was named as one of the best places to work in 2022, according to Glassdoor Employees' Choice Awards.
When asked which product or event was going to cause the most buzz, Will mentioned Procore's investment into workforce management solutions, elaborating further:
"Workforce management has been a big investment area for us. Just over a year ago, we acquired a company called LaborChart. We already had a solution called Field Productivity, which was for workforce tracking and productivity tracking as well as being able to track the hours that teams work so they can get paid through payroll. And then we acquired LaborChart, which does workforce allocation and planning, so you can schedule your workforce, communicate with them, make sure they're at the right place [at the right] time and with the right people are there. In a time when there's a huge labour shortage in the industry, being able to do the most with what you have is extremely important.
"And so, I think just over the last year or even two years, our investment in workforce management has been huge. Personally, I'm very excited to share that with our customers and they've been really excited as well, and so I think that'll be a big highlight."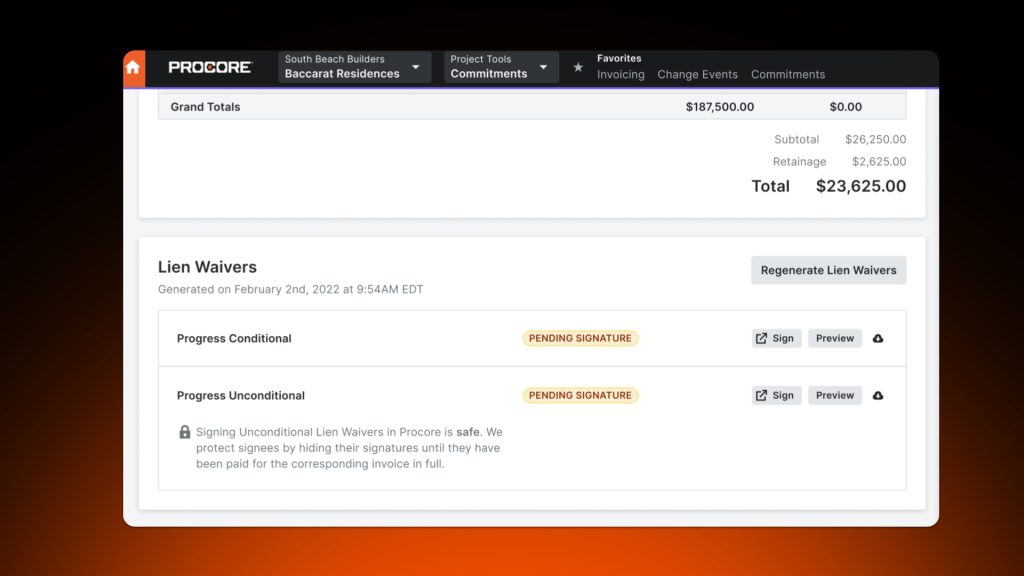 Will then provided me with insight on Procore's updates and expansion, including Procore Pay and Procore connect.
In regards to Procore Pay, he explained the motivation and the need for this feature:
"Money moves really slowly in construction, and getting people paid faster and making sure that people have cash flow is super, super important. It limits them from being able to take on more work to grow their business. One of the things we're really excited about is, is moving money in construction faster so people can take on more work, get paid and run their business more effectively. Procore Pay is a big investment, something we're really, really excited about that we're working on. Also, we acquired a company called LevelSet and they do material financing and so now as part of Procore, we're able to offer our customers material financing solutions. I think those two those two investments alone are going to tremendously help the construction industry move money faster and get people paid faster."
He continued on the other recent investments from Procore and the reasons why the software is so valuable in the industry, "One of the benefits of Procore being a platform and all the solutions that we offer is that our customers can centralize all their data into one platform– what you get out of that is just incredible insight that you just can't get any other way.
"Being able to try to piece all this data together across disparate systems is very, very difficult. So having an all-in-one platform with our enhanced reporting and our analytic solution sitting on top of it, our customers can now find these insights, risks, opportunities within their business, and that's hugely helpful."
Will also talked about the investment in preconstruction solutions, which is critical to help save businesses money and time. This is particularly relevant for electrical contractors and their businesses, no matter the size.
"We're seeing a need for more and more collaboration to happen in preconstruction. And so Procore is investing a lot in solutions that help our customers in preconstruction, whether it's our Procore Construction Network where the trades can go and actually get connected with general contractors so that they can find and win more work or improving our bidding solutions. On the specialty contractor side, you can check out our new bid board, which allows you to manage all of the bids that you're putting out there so you can better track all the work that you're trying to win and have won, and then all of that flows right into your estimating. We have an awesome estimating solution that really streamlines the preconstruction process."
Read more about the Estimation Tool and how Procore aids in preconstruction processes here.
Another heavy focus of the conference was the use and influence of AI in the world of construction. AI can be divisive, but Will and other speakers at the conference emphasized and championed its benefits in an industry that has not been quick to embrace digitization:
"The future is now. We already have integrated some of our AI and machine learning technology into the software. One being automated area takeoff— that's within our estimating solution. What it does is it allows you to automate a bunch of tasks for takeoff, and it provides two big benefits. One is dramatic reduction in time it takes to actually do the estimation process.
"So why does it benefit you? You can take on more bids with less people. You can go out and bid on projects faster so you can have a better chance of winning those jobs, and that efficiency is huge. But the other piece is that it takes away a lot of the manual mistakes you're going to make. When you can use AI and machine learning to go out and go through the drawings, pull out all the data that you need so that you can then estimate against that data, being able to do that in automated way is helpful. It reduces all those manual mistakes that you can make. And oftentimes there can be three, four, or five revisions of these estimates that you have to do, and every single one of those is introducing risk and time. And we've dramatically reduced that with our integration of AI into estimating."
"Construction people are so busy, and so being able to automate a lot of those things and being able to find trends within their data and then look for those anomalies where those trends go off course is going to help them catch mistakes, ultimately saving them time and money."
Many contractors have been underserved by technology, and tools and developments like these are helping turn the tides and bring the industry into an era of flourishing automation and digitization. Time savings in particular, and the elimination of mundane and easily automated tasks should unlock financial, productivity, and technological gains. This in turn will help employers in the industry navigate their way through the challenges of labour shortages and make the most of what they've got. Will pointed out that this is another incentive of the Procore construction management solution, and he provided some statistics from the Dodge Construction Network's 2022 Top Business Issues for Specialty Contractors Report.
"We surveyed 537 specialty contractors around the world, including in Canada– specifically 23% of those folks that we that we surveyed were Canadian specialty contractors , and 23% were electrical specialty contractors. One challenge is there's been profit margin erosion, right? These businesses exist because of the profit they can make in each one of these jobs, and there are different things that erode profit. 31% of those folks that we surveyed cited a lack of skilled labour available as one of the reasons they're seeing some of those margins erode. Another one is labour productivity challenges. 30% of them said that labour productivity challenges were impacting their profit margins. 29% cited inaccurate estimating as one of the challenges that's hurting their profit margin. And the last one I'll share is 27% felt that labour planning and allocation were inaccurate.
So, as I think about those, I'm really excited about the solutions that we're offering them. We have an estimating solution that helps our customers estimate faster, take on more work and then one of the things is you can win or lose your profit before you even break ground on a project by the way, you estimate that project, right? So it starts with finding the right work, making sure you're taking on the right jobs, and then being able to use all the data from your past projects to inform how you're going to make profit in the next job. And that all happens in estimating. And so being able to estimate a job in a way that's going to work for your business and ensure that you're going to be successful is super, super important."
Will also shared the data regarding the labour shortage here in Canada, and cited that 53% of respondents felt that 50% or more of their projects were being negatively impacted by the current labour shortage. He said that "that was that was huge to hear, and a little sobering, too. And so, again, I think, what are we doing to help them? I think our workforce management solutions are really trying to alleviate that issue."
Further, according to the report, electrical contractors surveyed stated that 41% of their overall workforce are likely to retire in the next five years—a staggering figure, and one that the industry is challenged by with increasing intensity. That is where the importance of employee onboarding, training and retention is super important—and by having that important data and knowledge digitized, the training process can go much more smoothly and quicker.
Finally, I asked Will his opinions on industry trends and what we can expect to see coming in the next few years.
"I think the biggest change will be the digital transformation of the construction industry. This is a massive, massive industry– one of the biggest industries in the world. And we're going to see the entire industry go through this digital transformation. For one, it's going to be very challenging for all those people and that's why I'm excited Procore is going to help those people with that transformation, making it easy to use products that people can pick up and learn very quickly, partnering with our customers to understand what the challenges are that are most important to them so we can solve those. We can help them understand how to adopt technology faster and better and get more use out of it. But as you see the industry make this transition en masse, what you're going to see is it's going to unlock all these opportunities in the industry."
Continuing, "…and when you start to see efficiencies gained, people are going to have more time to look for ways to innovate. And I think in so many ways the industry has been stuck doing things the same way for a long time because they haven't had the technology to help get some of those processes out of their way so they can go focus on what they do best, which is build. And I think what you're going to see is a huge unlocking of the knowledge of construction. These are some of the most creative, talented people in the world, period. And what they accomplish is incredible."
Throwing in one more statistic, he excitedly told me about all the potential he sees as the industry continues to grow and change:
"Of those folks we surveyed, on average companies report that about 20% of workers' time is currently spent on low productivity tasks, such as tracking down information, documenting information on paper, etc. So just think about that 20% of everybody's time in construction. Imagine if that was freed up. What could they do with it? What could we all do with 20% more time? Honestly, I think 20% is on the low end, and what you're going to see is massive amounts of time and efficiency return to these folks in construction. And what they do with that time is going to be incredible." You can join Procore's Groundbreak event next year in Chicago from September 18-20. Check out the event information here.