Powering a Changing World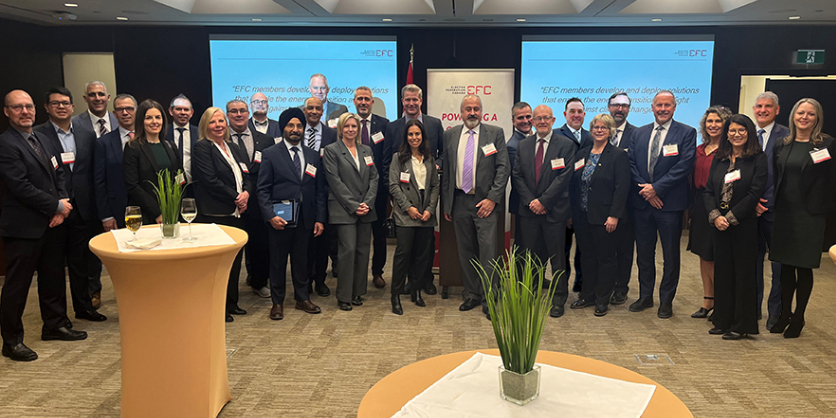 February 14, 2023
By Blake Marchand
On February 6th and 7th Electro-Federation Canada sent a delegation of staff and members to Ottawa in an effort to engage with MPs and policy makers on the industry's role in powering a changing world and Canada's efforts to reach net-zero goals.
The mission for EFC and its members was to develop relationships in Ottawa to get the industry a seat at the policy making table. The electrical and automation industries in Canada houses the expertise across several key areas to help the country implement electrification technologies and strategies to facilitate Canada's net-zero goals.
Achieving net-zero is obviously a tremendous undertaking that will require extensive collaboration between industry and government, and EFC is aiming to facilitate some of that collaboration to add a strategic aspect to policy development by connecting government policy makers to industry experts.
"A net-zero grid is going to be the backbone of our net-zero economy," relayed EFC's Cherith Sinasac via LinkedIn following the meeting, "As Tim King, President of Southwire Canada, explained so beautifully, 'This country built a railway that was the backbone to the industrial revolution, now we must build a grid that will be the backbone to a net-zero economy. A grid that can support electrification of transport and buildings.'"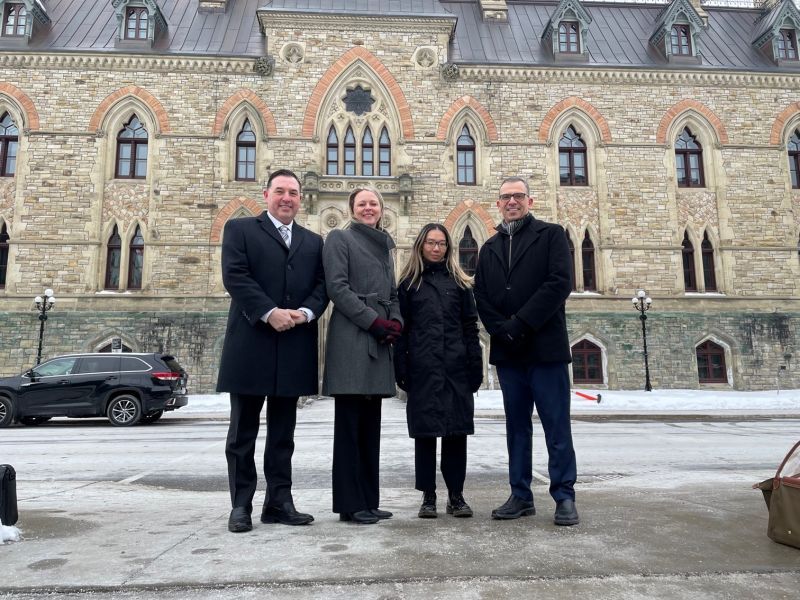 In total there were 26 meetings as part of the delegation that included EFC staff, member employees, Members of Parliament, Deputy Ministers, and policy advisors.
As part of the two-day event, a reception was held and the EFC delegation was addressed by 4 speakers: MP Sebastien Lemire from the Bloc Quebecois and critic for Industry Innovation and Science and High-Speed Internet, NDP MP Brian Masse from Essex Windsor and critic for Industry Innovation and Science, MP Conservative Party Damien Kurek and vice chair of the Environment Committee and Liberal MP The Honorable Lena Metlege Diab previous minister of Immigration in Nova Scotia. All speakers applauded EFC's efforts to engage in Canada's net zero initiatives.
As part of her speech at the event's reception, EFC President & CEO Carol McGlogan laid out the impetuous for the delegation, "Our message to you is that we are here for you. We want to help. We have the know-how, the technology, and the supply chain to make a difference in the quality and execution of the solutions required for a cleaner Canada."
"Electro Federation Canada is the association that represents the entire supply chain of electrical and automation solutions," she explained, "Whether we are talking about the grid, EV charging, demand side efficient building technologies or Industry 4.0, our members are the innovators, the makers, and the distributors of the solutions that Canada requires to reach net-zero targets."
EFC's Tom Mason emphasized that this two-day event was only the first step in the organization's goals for contributing to policy discussions. The EFC delegation was asking that MPs and government officials consider EFC a key stakeholder, advisor, and subject matter expert with respect to what electrical and automation industries can contribute to climate action.
"Canada has a head start with over 80% of our electricity generated by non-emitting sources," commented Fredrick Morency, Schneider Electric VP Sustainability, Strategic Initiatives & Innovation following the event, "We have the potential to be a global center of excellence for energy transition technologies and expertise. The electrical industry is ready to make it happen."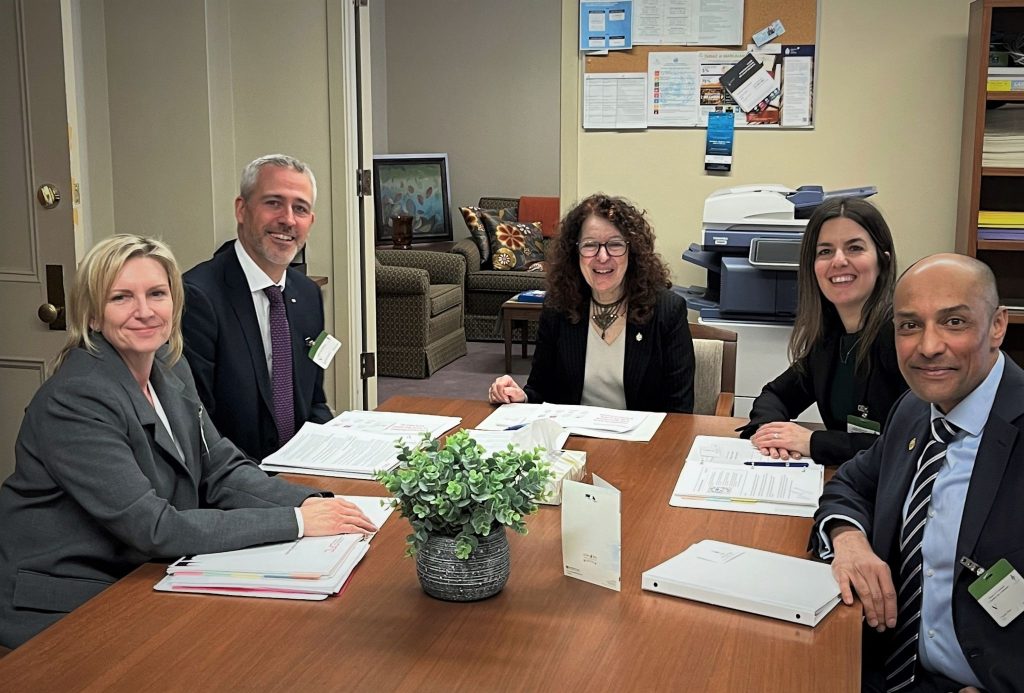 Powering a Changing World
A central aspect of the delegation was a report commissioned by EFC in collaboration with the Pembina Institute, a clean energy think tank to identify opportunities for the electrical and automation industries in facilitating Canada's electrification and net-zero goals. There are several key areas that EFC spoke to as part of the delegation relating to the electrical grid, EV infrastructure, and buildings.
The electrical grid involves upgrading existing infrastructure while implementing renewable energy, storage, and distributed energy resources. Grid infrastructure will also need to be updated to optimize the performance of new technologies. Net-Zero involves mass deployment of electrical and automation devices. With respect to buildings, The Pembina Institute estimates that Canada will be required to increase implementation of deep retrofits and fuel-switching of building stock 4.5% annually up until 2040. With respect to EV adoption Canada needs to expand its charging network significantly.
In order to achieve these goals, multiple analyses of net zero pathways projects that $80 Billion per year of public and private funding will need to be invested in decarbonization. Currently, the investment is approximately $15B per year. Funding programs and tax credits that remove barriers to government funding will be critical, while also ensuring funds are distributed evenly.
With respect to electric vehicle adoption a key barrier is charging networks. The Pembina Institute finds that by 2050 we'll need 830,000 charging stations for light-duty vehicles (LDV) by 2050, 40,000 public medium heavy-duty (MHDV) charging stations, and 337,000 Level 2 chargers and 87,000 Level 3 chargers for medium heavy-duty vehicles. Dunsky Energy Consultants estimate that the investment required for LDVs will be $20B over the next 3 decades, the Pembina institute estimates that MHDVs will require $500M by 2025 and $7-13B by 2050.
This infrastructure will put more strain on the grid, which will require collaboration between jurisdictions, updates to existing technology, as well as implementation of advanced technologies.
Harmonization of standards will be critical to support supply chains and improve cost effectiveness for products being implemented. From a grid perspective, harmonization of provincial power systems to better manage the demand of electrification. Moving forward with electrification and the associated infrastructure and meeting the climate targets Canada has already set will need to be a collaborative effort. Between companies, utilities province to province, as well as provincial and federal governments. Not only for the planning and installation of the electrical grid, building retrofits, electrified transit, EV charging networks, but also for the ongoing operation of an electricity-based economy.
Electrification puts significantly more demand on the grid, using automated and IoT technologies to share loads between provincial grids, as well as between buildings and cities will be critical to creating an efficient and reliable distribution system.
When it comes to buildings, the entire building envelope needs to be considered while moving away from carbon-based fuel by implementing heat pumps supplemented with electric heat. Resistance heating is another key technology that can be a cost-effective option. There is a major market for building retrofits in Canada. Buildings can be retrofitted to be more efficient throughout the entire building envelope, but they can also create micro-grids that can communicate with other buildings as well as with the grid to create smart cities that can store clean energy during low-demand periods and share loads during peak consumption.
The EFC report recommends that federal and provincial funding be increased by 10-20 times for deep retrofits and electrification. As well as a national deep retrofit development strategy. Funding large building retrofit projects can be challenging because there is a gap between the benefit of these projects and how financial institutions assess risk, a national strategy would help bridge that gap.
Overall, EFC's take away from the Ottawa event was positive, they came away from the two days of meetings with a better understanding of how to continue to engage with government officials to ensure that the industry will be included as key stakeholders in consultation for policy decisions. For EFC, the event was more than a one-off trip, they will continue to engage with the government to influence decisions on mutually beneficial solutions in the progression towards Net-Zero.
As McGlogan said in her address, the electrical and automation industries have the expertise, technology, and supply chain to "make a difference in the quality and execution of the solutions required for a cleaner Canada."
Visit EFC's LinkedIn page to view the posts from industry and government.
Go HERE to view a photo album from the event.