Brent Neilly on Developing Marketing Strategies, Milwaukee Tool Cordless Technology, and Smart Tools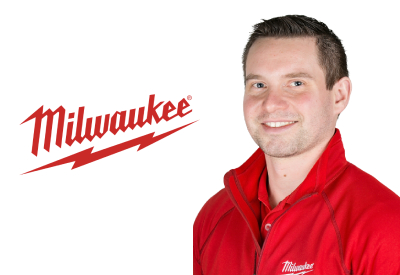 March 11, 2022
By Blake Marchand
Brent Neilly is the Group Marketing Manager with Milwaukee, he has a background in business communications with a B.A. from Brock University, as well as experience working in the construction industry.
"When I joined TTI (Milwaukee's parent company) it was kind of a perfect match, I had some marketing knowledge from my business degree and some industry experience from working in the trades."
Neilly gained his experience covering an area from Orillia to Timmins, Ontario when he first joined the company as a Field Sales Rep, as well as on their Job Site Core Trade Specialists in the GTA where he found his niche working with utility clients. His success in that market led to him becoming the first utility specialist in Canada for Milwaukee Tool, where he developed a strategy to partner with utility customers in Ontario before being tasked with rolling out a national strategy for utility customers. Neilly now manages teams for six trade groups across Canada.
"It was a good opportunity because it was an industry (power utilities) that was seeing a lack of innovation," he said, from a power tool perspective, "there was a big opportunity there and really our solution to that was pretty simple, we got belly-to-belly with the end-user, we went out and talked to them about their pain points and frustrations, then we took that feedback back to our R&D department to build solutions that alleviated a lot of those pain points."
From there, Neilly was tasked with creating a similar strategy for plumbing and electrical markets in 2019 and 2021 he also took on the general contractor, mining, and transportation maintenance markets.
Neilly said there were a couple challenges, "we have a mature group of customers in the plumbing and the electrical space, but when we entered the mining and power utility spaces, we didn't have a real stronghold there."
"We had to go back to the basics of developing relationships on the ground level and taking care of the end-user with the goal of developing a long-stranding a corporate partnership – which, eventually, is where we got to today. Those two businesses are the largest of our six core trades," he said of mining and power utilities, "and 5-years ago we weren't even focused on those trades, so it's been a huge spike in growth for us."
Neilly noted that they don't sell direct, but they do go down to the end-user from an education, R&D, and marketing perspective, "we're essentially the marketing arm. Milwaukee launches new products consistently, so its important for them to have a ground level marketing arm to get the message out about their new products and solutions.
When it comes to cordless tool trends, he said, "Directly from the user its three things, innovations, sustainability, and productivity. On the innovation, from the Milwaukee perspective, the advancements we've made in the lithium battery technology have allowed users to truly cut the cord. Whereas before, battery technology really wasn't a true replacement of corded or gas products."
"Now with the more powerful cells we've acquired, the electronics packages inside the tools, and a more durable pack construction designed for the industrial user, we're able to, like I said, cut that cord or remove that gas tank in certain situations."
"The other piece to that is, we switched from brushed to brushless motors using electromagnetics," which means less wear and tear on the tool and longer motor life, "motors that, proprietarily, we designed from the ground up for the task at hand."
Neilly added that, they have an intelligent system within their tools, their battery and charger are "truly connected."
On an 18-volt cordless drill, for example, Neilly explained, "it's actually measuring the load on the end of the tool and adjusting the battery output based on that load. So, you have power on-demand, you're not wasting battery power in lighter applications like driving a screw or something simple like that."
From a smart technology/safety perspective, Neilly added that, 'we have engineered controls within some of our tools, our rotary hammers for example, we have a gyroscope in the tool that recognizes a bind-up situation. If you're drilling a hole into a concrete wall and it catches on some rebar, instead of twisting and taking the user for a ride, it will actually measure once the tool gets 15 degrees out of alignment and shut the tool down so the user doesn't get injured when using the tool."
They also have overload protection to prevent the tool. If the tool is being over-used it will shut down to give it an opportunity to cool down, "instead of ending up in the service centre and the user being without a tool."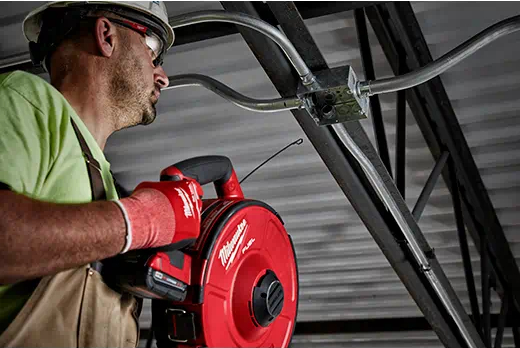 As Neilly mentioned, Milwaukee will consult end-users to assess what they are looking for in tools and implement that in their R&D process to address issues they run into on the job. An example of that is their M18™ Angler, which launched in 2021.
"Our engineers went out into the field, and they noticed electricians specifically we're pulling wire through long runs through multiple bends of conduit. It's all hand and repetitive motion, so imagine pulling 200 feet of wire, it can be pretty exhausting. You compound that over 30-40 years in the trade it's going to lead to some long-term stress injuries."
The M18™ Angler automates that process, feeding fish tape and pull wiring with a forward and reverse button.
"It's probably been our most requested item in the last 6-8 months," he noted. "It's just one of those things where you show it to someone on a safety committee or someone who works in standards, they immediately see the value of it because of the safety aspect, as well as the time savings and labour savings that are associated with that."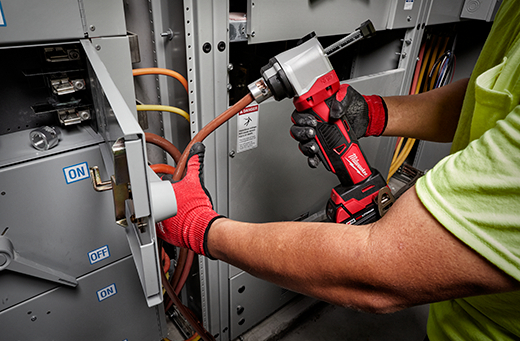 Neilly said their main focus is developing products that are innovative and getting people home safer, as well as the end of their career.
The M12™ and M18™ Cable Strippers are another example of a tool designed to improve safety. "A lot of users today are still using an exposed blade skinning knife in order to strip cable. We automated that process in creating a battery-operated solution."
Looking at technology from a broader perspective, Neilly explained their One Key inventory system that allows users to track tools and assets they have in their inventory.
"Essentially you log the asset into our system, and you have the ability to assign values to them, assign them to people, trucks, and jobs and track those tools."
Milwaukee has One-Key enabled tools that have Bluetooth embedded into them to track the tools and shut them down if they are stolen. Its compatible with all inventory management methods, keeping track of tools and equipment is easy with One-Key. From asset ID tagging and equipment trackers to barcode scanning and geofencing, get complete visibility across jobs and cost-saving alerts.
"Theft is a major concern on jobsite today and with the increased cost of going cordless, people want those assets protected. Now we can say as a manufacturer we're providing a solution that can potentially reduce the potential for theft."
"On top of that, if there's large scale jobsites or tool cribs, you can actually geofence that area and if a tool walks off that site and if a tool walks off that site it'll automatically shutdown and notify the user."
Another aspect is being able to forecast what a particular job might cost based on previous jobs.
"As I mentioned before, you can assign values to all your assets. So, when you complete a job, you can forecast what a similar job would be based off of your spends from a previous job."
"With our crimping and termination tools in the electrical space, you can take all of the crimp data off of a tool, which means all of crimps that were completed the PSI output of all of those crimps and a time stamp with that – and hand it to the general contractor that's owning the site or the electrical authority that needs to check the work after the fact."