Hubbell Announces New Segment Leadership in 2023
June 13, 2023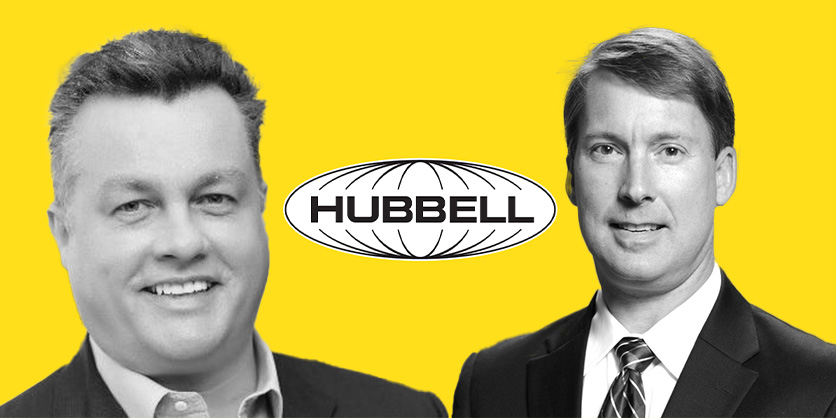 Hubbell Incorporated recently announced that Allan Connolly, President of Hubbell Utility Solutions, will retire effective July 1, 2023. Greg Gumbs will serve as President of HUS upon Mr. Connolly's retirement. The Company further announced the appointment of Mark Mikes as President of the Hubbell Electrical Solutions segment. The retirement of Mr. Connolly and the appointments of Mr. Gumbs and Mr. Mikes are effective July 1, 2023.
Allan Connolly joined Hubbell in 2018 as a result of the Aclara acquisition and has served as President of HUS since 2019. 
Gerben Bakker, Hubbell's Chairman, President and CEO commented, "I would like to thank Allan for his contributions to Hubbell over the past five years. Under his leadership, Hubbell's legacy power franchise and Aclara business merged together to create a leading platform of best-in-class utility solutions for our customers. His strategic vision for the business and passion for innovation helped drive a strong acceleration in the segment's organic growth profile over the past several years. During Allan's tenure, HUS delivered operating profit growth for our shareholders well in excess of double-digits on a compounded annual basis. I wish him all the best in his next chapter and thank him for his partnership."
Greg Gumbs succeeds Mr. Connolly as President of HUS with a proven track record of leadership and performance in the utility, electrical and automation industries. Mr. Gumbs has most recently been President and CEO – Bosch Rexroth North America since 2020, and prior to that held various senior leadership positions at Eaton Electrical and Rockwell Automation.
"Greg is a strong leader who I am confident will build on a strong foundation and deliver continued outperformance for the business," said Mr. Bakker. Mr. Bakker continued, "As grid modernization and electrification drive greater need for utility automation, Greg's experience and skillset are uniquely suited to enable HUS to optimize our leading positions across components, communications and controls to deliver differentiated solutions for our customers. I look forward to him joining Hubbell's leadership team."

Mark Mikes has been with Hubbell for over thirty years in various roles at Hubbell Power Systems ("HPS"), a division of HUS, which he has led for the last several years. Mr. Bakker commented, "Mark has a well-established track record of success at Hubbell. He played a major leadership role in our successful efforts to bring together a broad portfolio of acquired utility businesses under a unified, integrated business in HPS. Organized to compete collectively, HPS's simplified operating structure has enabled us to consistently improve profitability and cash generation. Mark is the ideal leader to execute on a similar playbook at HES as we continue our multi-year strategy to improve the segment's long-term growth and margin profile."

Mr. Bakker concluded, "Hubbell's leading positions in front of and behind the meter strategically align our Utility Solutions and Electrical Solutions segments around attractive long-term trends in grid modernization and electrification. Our strategy is delivering strong results in the near-term, and we remain focused on delivering consistently differentiated performance for our shareholders and customers over the long-term. Hubbell is excited to announce today the appointments of our new segment leaders. Both Greg and Mark are committed to Hubbell's core strategy, and both are well supported by experienced and talented teams that will help support their transitions to their new roles while ensuring Hubbell continues to drive value for all of our stakeholders."

Gerben Bakker, Hubbell's Chairman, President and CEO
Related Article
Hubbell Incorporated has recently been recognized by Ethisphere as one of the 2023 World's Most Ethical Companies. This is the third time Hubbell has achieved this recognition.