Schneider Electric Canada Joins Forces with AD Canada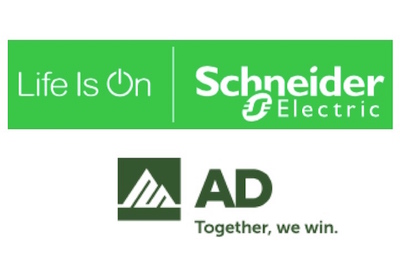 Oct 31, 2018
Effective November 1, 2018, Schneider Electric Canada joins AD Canada as an authorized supplier partner to enhance the digital transformation for distributors. The complete Schneider Distribution Equipment product portfolio is included in this agreement.
"Schneider has been a terrific partner to several of our Canadian distributors, and this new relationship with AD is a tremendous advantage for our membership because it provides additional growth opportunities in power management across multiple vertical markets," says Dan Drazilov, President of AD Canada's Electrical Division.
According to Bruno Capdordy, National Channel Director at Schneider, "The combined strength of Schneider, and AD market leading distributors is truly a winning combination. As digitization is rapidly growing and Schneider programs are leading the way, this is an opportunity for Schneider Electric Canada to leverage AD's innovative eCommerce and marketing programs and increase efficiencies, while supporting their local distributors and customers."
AD is the largest contractor and industrial products wholesale buying group in North America. AD provides independent distributors and manufacturers of construction and industrial products with support and resources that accelerate growth. More than 600 independently owned members span seven industries and three countries with annual sales in excess of US$34 Billion. AD served industries include electrical, industrial, plumbing, PVF, HVAC, building materials, and bearings & power transmission.