Investment in Building Construction Up 0.5% in December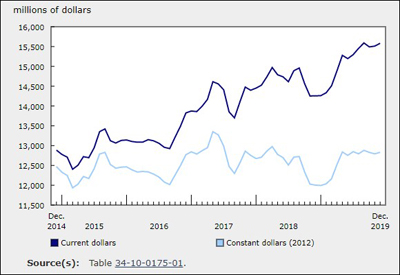 Feb 24, 2020
Total investment in building construction edged up 0.5% from November to $15.6 billion in December, with gains in both the residential and non-residential sectors. On a constant dollar basis (2012=100), investment in building construction was largely unchanged at $12.8 billion. The total value of investment increased by 3.4% to $181.8 billion from 2018 to 2019.
Residential investment
Residential investment was up in five provinces in December, with notable gains in Ontario (+2.0% to $4.5 billion) and Alberta (+3.2% to $1.1 billion). Nationally, investment in multi-unit dwellings increased 2.8% to $5.5 billion. Several major apartment projects in Toronto led Ontario gains in multi-unit investment, up 7.2% to $2.3 billion.
Conversely, investment in single-unit dwellings decreased in every province except Alberta, leading to a national decline of 2.3% to $5.1 billion.
Non-residential investment
Non-residential investment rose in six provinces in December, with notable growth in Quebec, Ontario and Manitoba. Alberta declined for the sixth consecutive month, down 1.2% to $695.5 million.
Investment in the institutional component rose 1.1% to $1.1 billion in December. The ongoing addition to the Université de Montréal hospital centre, and several major institutional housing projects, led to strong increases in Quebec.
Investment in the industrial component increased 1.6% to $923.0 million, with notable gains in Ontario (+$7.7 million), Quebec (+$4.9 million) and British Columbia (+$4.1 million).
The commercial component increased for the 23rd consecutive month, edging up 0.3% to $2.9 billion in December.
Annual review of 2019
The total value of investment in building construction for 2019 increased by 3.4% to $181.8 billion. Investment increased in six provinces, with substantial gains in Quebec (+10.7% to $38.6 billion), British Columbia (+10.3% to $32.6 billion) and Ontario (+1.8% to $71.7 billion).
Prince Edward Island reported the highest percentage growth in 2019, increasing 50.9% to $851.7 million. The rising population contributed to a significant increase in the residential sector, increasing in both multi-unit investment (+162.7% to $199.3 million) and single-unit investment (+34.8% to $475.0 million).
Investment in construction for Alberta fell in 2019, dropping $2.5 billion from 2018. Declines in the residential sector constituted the majority of this, down $2.1 billion to $11.7 billion, while non-residential investment declined by $400.6 million to $8.9 billion.
Nationally, investment in residential construction increased 2.3% to $123.9 billion in 2019. Multi-unit investment continued to grow, up 11.8% to $62.6 billion, while single-unit investment declined for back-to-back years, down 5.9% to $61.3 billion. Increases in Ontario, British Columbia, and Quebec led investment in multi-unit to surpass single-unit construction for the first time on an annual basis. Increased investment in apartments (+12.7% to $50.2 billion) and row homes (+9.8% to $8.2 billion), along with decreased investment in single homes (-6.5% to $57.5 billion), broadly reflected a national shift toward the intensification of urban areas.
Investment in the non-residential sector increased in seven provinces in 2019, up 6.0% to $57.9 billion. Growth in commercial investment (+11.3% to $33.5 billion) and industrial investment (+5.6% to $10.8 billion) more than offset declines in the institutional component (-4.8% to $13.6 billion). Quebec and British Columbia combined for over 90% of non-residential growth, primarily due to an increase in commercial investment. Nationally, investment in office buildings had the strongest growth, up 16.3% to $11.6 billion, while schools and education buildings reported the largest decrease, down 15.5% to $6.3 billion in 2019.
Source: Statistics Canada, www150.statcan.gc.ca/n1/daily-quotidien/200224/dq200224c-eng.htm