Innovair (Ouellet Canada) Named Canada's Best in 2023
May 16, 2023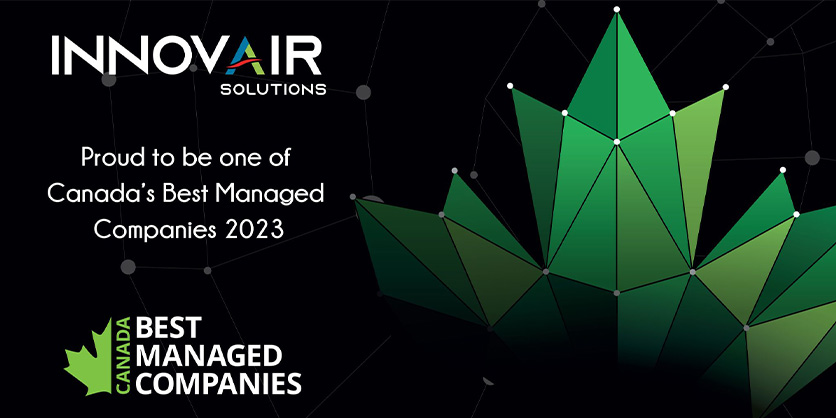 Good products don't come out of nowhere. Generally speaking, the quality of a company shines through in what it produces, whether that's service, or products. Innovair Solutions (formerly Ouellet Canada) is no exception to that rule. If you've ever had the pleasure of working with any of their heating and cooling products, you know that Innovair produces high quality, long lasting, easy to use and reliable products right here in Canada.
So it comes as no surprise that Innovair Solutions has once again been named is one of Canada's Best Managed Companies.
This designation recognizes companies that have stood out for their high performance in terms of management, innovation, strategic planning, culture and commitment. The winners of this annual awards program go through a rigorous application process. Innovair Solutions was selected for demonstrating excellence in all areas of its business. The company has also proved that it is a leader in its sector and is committed to offering exceptional value to its customers.
Canada's Best Managed Companies is the country's leading business awards program, recognizing excellence in Canadian owned and managed companies. Every year since the program launched in 1993, hundreds of entrepreneurial companies compete for this designation in a rigorous and independent process that evaluates their management abilities and practices.
There are four award levels:
1) Canada's Best Managed new winners (new winners chosen every year);
2) Canada's Best Managed winners (award recipients that have re-applied and successfully retained their Best Managed designation for two additional years, subject to an annual review of their operations and finances);
3) Gold Standard winners (after three consecutive years of maintaining their Best Managed status, these winners have demonstrated their commitment to the program and successfully retained their Best Managed status for four to six consecutive years); and
4) Platinum Club members (winners who have retained their Best Managed status for seven years or more).
The program's sponsors are Deloitte private, CIBC, the Globe and Mail, Salesforce, and TMX Group. For more information, go to www.bestmanagedcompanies.ca
Related Story
The Ouellet Group team has recently come to a unanimous decision: They want a name for the company that would reflect their international positioning and their growth over recent years. That name is Innovair Solutions.