FM Supply + GE: Ready for Your Next Project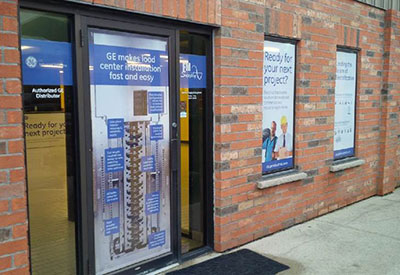 A branding partnership between GE and FM Supply's new Stratford, ON branch demonstrates how manufacturers are starting to work with channel partners, helping them brand their locations.
GE has provided FM with a set of dynamic graphic window and counter signage promoting GE alongside FM Supply. Themed "Ready for your next project," the GE messaging also demonstrates the companies' abilities in key industrial segments. 
 
FM Supply announced its Stratford branch in Mid November. FM Supply, an Independently owned electrical wholesale distributor based in Waterloo, ON, is engaged in the commercial industrial, residential, automation, and comm data market throughout Southwestern Ontario. The distributor is very active in the design build as well as the plan and spec project market.
The new, 3000-sf facility, designed in an open warehouse counter configuration, is located at: 191 Griffith Rd., Stratford, ON N5A 6S4.