Everything You Need to Know About the E.B. Horsman Rewards Program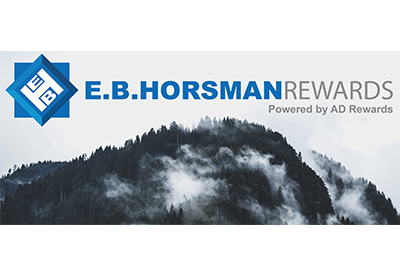 August 30, 2022
Everyone loves rewards — especially those earned from products already on your list. The E.B. Horsman Rewards Program helps you get more out of your everyday purchases. If you're not already enjoying the many benefits of membership, you can sign up today and start earning more.
By purchasing qualifying products from participating suppliers, E.B.'s program helps you earn valuable rewards for yourself, your staff, family and charities. We've partnered with more than two dozen suppliers — including Siemens, Cooper Lighting, ABB, IPEX and Stelpro — to bring you the rewards you deserve. Just collect points when you buy qualifying products and when you're ready to redeem, simply select your reward of choice and enjoy!
Here is everything else you need to know about being an E.B. Horsman Rewards member:
How does it work?
Once you buy a product from a participating supplier, you start collecting points. Those points go towards your gift of choice. But first — make sure you sign up today with your customer account number to start shopping and reap the full benefits of membership.
What can you buy?
Stock up on products like lamps, ballasts, and drivers from Signify, bath fans and electric furnaces from Broan/Nutone, ladders from Louisville Ladder, lighting from RAB Design and more. Start by browsing E.B.'s entire list of participating suppliers to see if something catches your eye.
Pick your rewards
Here's the fun part! Once you rack up a certain number of points, choose from hundreds of reward options, or make a donation to your charity of choice. You can treat yourself, get something for the office, reward outstanding employees, or get prizes for golf tournaments, special events or holiday parties.
You can reward hard work with:
Sporting goods
Travel vouchers
Tech gadgets
Housewares
Gift cards
Accessories, and more
Does your company have a gift-giving policy? No problem. E.B.'s employees will work with you to redeem points for:
Charitable donations
Items to donate
Office and lunchroom supplies
Expense gift cards