Wanted: Flexible, Purposeful and Supportive Employment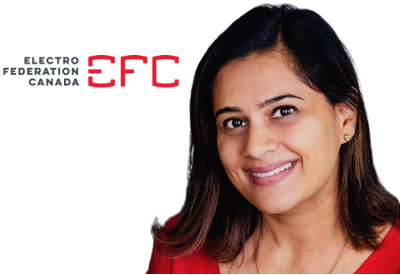 November 3, 2021
By Swati Vora-Patel
The race to acquire top talent is contingent on creative recruitment and retention strategies that support employees' new motivations: flexibility, purposeful work and supportive incentives.
Talent availability continues to be a key concern among business leaders in the electrical industry: in fact, over 60% of EFC members surveyed said they do not have a robust talent pipeline in place. This pipeline is even further constrained as a result of ongoing employment challenges spurred on by the pandemic.
A global phenomenon known as "The Great Resignation" is underway which reflects a wave of workers who are strongly considering leaving their jobs in search for work that is more closely aligned with their interests with employers who provide flexible accommodations and serve a strong purpose. While 'The Great Resignation' spans all generations, younger Canadians are mostly contributing to this trend: in fact, global staffing firm, Robert Half reported that 33% of employed Gen Z's and millennials in Canada have plans to pursue a new job, post-pandemic.
The IBM Institute for Business Value undertook research to understand the pressure points felt by inter-generational workers. The following chart shows some of the common reasons for the mass exodus: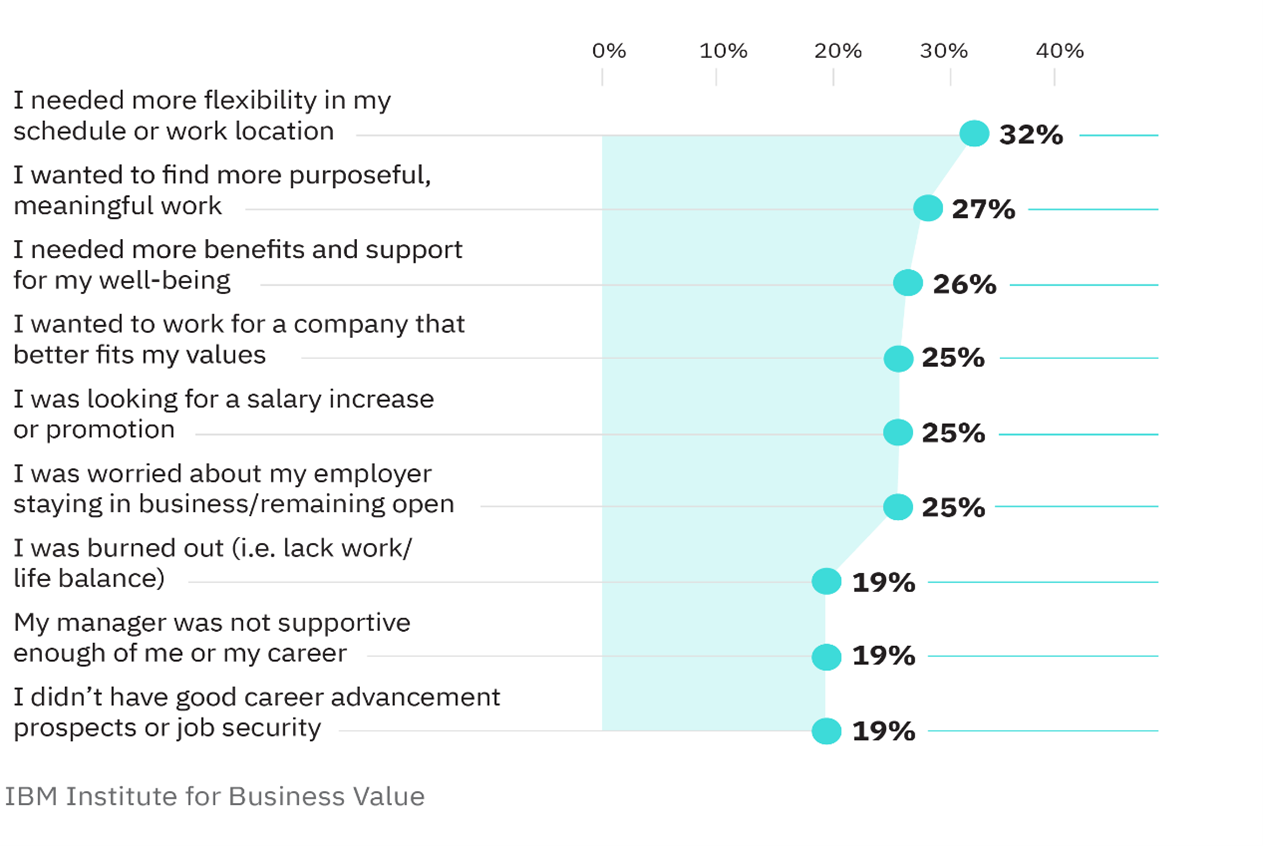 Source: https://www.ibm.com/thought-leadership/institute-business-value/report/employee-expectations-2021
These drivers demonstrate new motivations and expectations that employees require in their search for a 'good-fit' employer. It is essential for businesses to develop creative attraction and retention strategies to includes new accommodation factors to compete for talent. While many organizations have implemented flexible hours/weeks, competitive salaries and enriched learning and development programs, other creative measures are critical. The following are examples of other strategies best-in-class companies are providing to secure and retain talent:
Work-from-home policies
Maintaining work-life balance and choosing the optimal work environment, continues to be a key motivator for employees. While work-from-home (WFM) accommodations don't apply to all functions within a company, channel partners in our industry are largely open to continuing WFH policies for positions that can accommodate this option. According to results from an EFC survey, over 80% of HR professionals that participated in the survey said they will continue to allow employees to work-from-home, post-pandemic. Employers have had a positive experience with employees working from home over the past 18 months. Survey respondents confirmed:
WFH policies have generally been effective
Employee productivity and performance have been high during the pandemic
Employee engagement/involvement in organizational goals are aligned
In the months to follow, employers will need to closely examine how to operate a hybrid workforce to maintain productivity and performance, while also protecting their company culture.
Health and wellness support
While employees have enjoyed the benefits of WFH, this pandemic has affected the overall well-being of many. As we begin to emerge from the pandemic, it is promising to see that our industry is placing a stronger focus on the mental health and well-being of their employees. Over half of members surveyed by EFC have already added, or plan to add, mental health and wellness programs to support employees. Such programs include:
Flex benefits
Staff fitness challenges
Yoga and meditation classes
Health coaching and nutrition workshops
Fitness equipment allowances
Recently, Great Place to Work® released a list of the best workplaces for mental wellness in Canada – check out which organizations were named best-in-class companies and what measures they have in place: https://www.greatplacetowork.ca/en/best-workplaces/best-workplaces-mental-wellness-2021
Remote work
This pandemic has changed the mindset of where employees can login and work from. When you consider the limitless work locations, the rising housing costs, compressed talent pipeline, remote work has given way to a new stream of opportunities to source and acquire talent. For the first time ever, the number of fully remote, six-figure job opportunities have exceeded those jobs available in any metropolitan North American city! The world has become our oyster and it is time to think differently about how organizations can secure the talent they need to support their business going forward.
Creative incentives
Several companies have further heightened their recruitment efforts through creative strategies. Take for example, a housing incentive benefit that an Ontario engineering firm provides to its employees. This firm offers staff $20,000 to help buy their first home in this scorching market. This incentive is available to all staff – the only requirement is that the employee must remain at the company for a minimum of three years after receiving the funds. While this isn't something all companies can provide, it's an example of new strategies that companies have introduced to attract top talent.
Building Your Talent Bench-Strength
It's time to be getting more creative in how employees' work-life needs are supported. Developing strategies and policies that reflect flexibility, purposeful work and supportive incentives is key to building your talent bench-strength and fuelling the motivation your workforce requires to adapt to the evolving world of work.
EFC members are invited to join EFC's HR Network to learn about the latest recruitment and retention strategies. The next network meeting will be held on November 17th and will examine what business leaders and HR professionals can do to address and overcome "The Great Resignation". Contact John Jefkins at jjefkins@electrofed.com for participation and meeting details.
Swati Patel is VP, Marketing & Channel Development, Electro-Federation Canada.