Successful Return For The Mechanical Electrical Electronic Technology (MEET) Show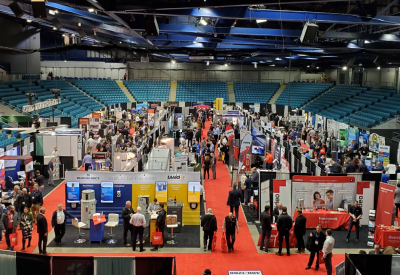 May 9, 2022
The Maritime's largest Mechanical and Electrical event took place last Wednesday and Thursday, May 4 and 5 at the Moncton Coliseum. The Mechanical Electrical Electronic Technology (MEET) Show, which is the second largest industry event of its type in Canada and the largest trade event east of Montreal saw 5,772 registered attendees this year.
"This edition of the MEET Show was a great success," said Shawn Murphy, Show Manager. "We saw professionals from all across the country showcase the latest technology – from robots to heating units and smart building innovations, there was a lot to take in over the course of two days. We are hearing lots of positive feedback from exhibitors and attendees alike."
MEET serves as a comprehensive marketplace for industry professionals and is more than just a trade show; it also includes a strong educational component with a popular seminar series offered by the four sponsoring associations: Canadian Institute of Plumbing & Heating (CIPH), Electro-Federation Canada (EFC), Illuminating Engineering Society (IES), and Atlantic Canada Mechanical Exhibitors (ACME). The seminars also counted toward informal education for various professional associations and drew large crowds over the course of two days.
This year, attendees also had the opportunity to enter to win one of five incredible door prizes. Congratulations to the following winners:
Donna Sheppard from Port Hawksbury won the Saniaccess 3 Toilet compliments of Saniflo
Kevin Connolly from Halifax won the 50" Samsung 4K LED Smart TV compliments of Schneiders Electric
Andrew Blanchard from Ellershouse won the Vectapure Reverse Osmosis Membrane compliments of APS
Gary Delory from Antigonish won the 18-V BOSCH Tool Kit compliments of Chemfax
Katie MacDonald from Fredericton won the Star Lighting Pendant compliments of DALS Lighting
A huge thank you to Saniflo, Schneiders Electric, APS, Chemfax and DALS Lighting for sponsoring each of the door prizes. Event organizers would also like to thank Electrical Business and HPAC Magazines, for producing this year's Show Guide as well as Munden, Masco, IPEX, and Schneider Electric for sponsoring the lanyards and reusable bags.
MEET will return for another exciting edition in 2024. Exhibitors and attendees are encouraged to follow the show's website and/or Facebook and Linkedin pages for the latest information.