Southwire Joins ETIM North America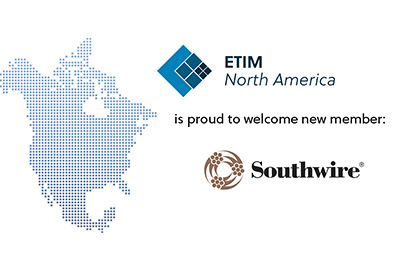 March 15, 2022
ETIM North America has recently announced that Southwire has joined ETIM North America.
Southwire is a major wire and cable management company and recently significantly expanded its construction supplies and lighting business with the acquisition of Topaz USA.
The wire/cable segment has historically been challenged to assign product attributes for product classification and eCommerce utilization purposes. For this reason, major wire / cable manufacturers are embracing ETIM's product classification methodology for assigning features and values that are language independent and that will embrace all elements of the industry.
ETIM North America's wire / cable Product Expert Group currently brings together Southwire, Prysmian, Priority Wire & Cable, Atkore, Electri-Flex, ANAMET and Service Wire to develop standards for the electrical industry.
Phil Tuggle, Senior VP of Business Transformation at Southwire, shared "I've been a proponent of the ETIM model for a number of years. It is what the wire/cable industry needs to enable us to achieve digital transformation benefits that will benefit all elements of our channel. ETIM NA's vision of utilizing industry sourced features and values and then enabling them to be used throughout the industry will benefit all. Our team is committed to representing Southwire on the Product Expert Groups to help accelerate refinement and development." Southwire will initially participate in the wire / cable Product Expert Group but will also participate in others as appropriate for their product categories.
Mary Shaw, Executive Director of ETIM North America commented "It's very gratifying to see another major company in a product category that is commonly considered a 'commodity' recognize that industry-developed standards that are globally recognized and locally refined can help a company achieve their digital transformation objectives. We look forward to Southwire's active participation."
To learn more about ETIM North America, its Product Expert Groups, and how manufacturers, distributors and service companies can participate, visit www.etim-na.org.