Danny Buchanan Marks 50 Years with Rexel Canada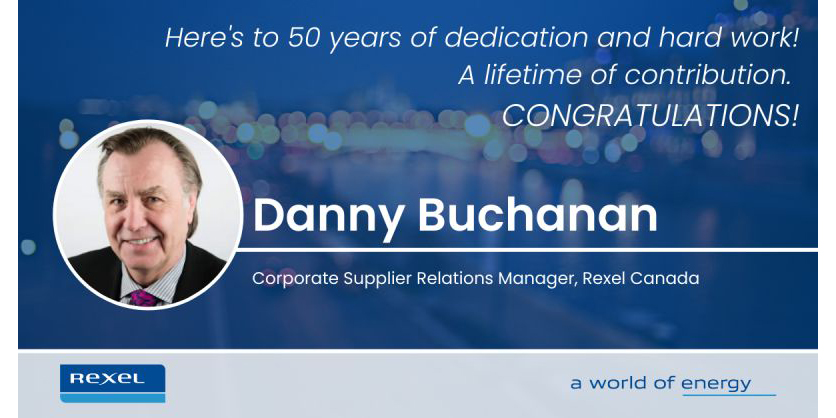 June 23, 2023
LinkedIn post by Jeffrey Moyle, Vice President, Supplier & Digital Strategy, Rexel Canada Electrical Inc.
Today, we proudly honor Danny Buchanan, a true legend among us, as he marks an incredible milestone—his 50th anniversary with our organization! 🎊🌟
Danny's journey began half a century ago, and over the years, he has become an invaluable asset and a shining example of commitment, hard work, and passion. Throughout his career, Danny has donned many hats within Rexel Canada, excelling in various roles and leaving an indelible mark on every project he undertook.
Beyond his exceptional professional contributions, Danny has formed deep and lasting connections with everyone he has encountered. He has built enduring relationships with our suppliers, who admire his unwavering dedication and trustworthiness. His coworkers consider him a mentor, always ready to offer guidance, support, and a listening ear. Moreover, his warm and caring nature has made him beloved by his family, who have witnessed his unwavering commitment to both his work and his loved ones.
Danny's extraordinary achievements and unwavering loyalty are a testament to his character and his invaluable contributions to our organization's growth and success. He has played an instrumental role in shaping our company culture, exemplifying the values that lie at the core of our organization.
Please join us in congratulating Danny Buchhannan on this momentous occasion. Let's express our heartfelt appreciation for his extraordinary dedication, remarkable achievements, and the positive impact he has made on all of our lives. 🎉👏
View the LinkedIn post HERE.