Single-Family Unit Construction Brings Down Residential Investment in April, Non-Residential Up 3.4%
June 27, 2023
Investment in building construction went up by 0.4% to $20.3 billion in April. The residential sector edged down 0.7% to $14.4 billion, while the non-residential sector was up by 3.4% to $5.9 billion.
On a constant dollar basis (2012=100), investment in building construction grew 2.3% to $11.8 billion.
Single-family unit construction brings down residential investment
Investment in residential building construction was down 0.7% to $14.4 billion in April.
Single-family homes declined 2.1% to $7.7 billion in April, the lowest level since November 2021. In April 2023, notable gains from Nova Scotia (+15.2%; +$52.8 million) were offset by declines in Ontario (-4.2%; -$146.4 million) and Quebec (-4.4%; -$67.3 million).
Multi-unit construction increased 0.8% to $6.7 billion, hovering around this value since December 2022.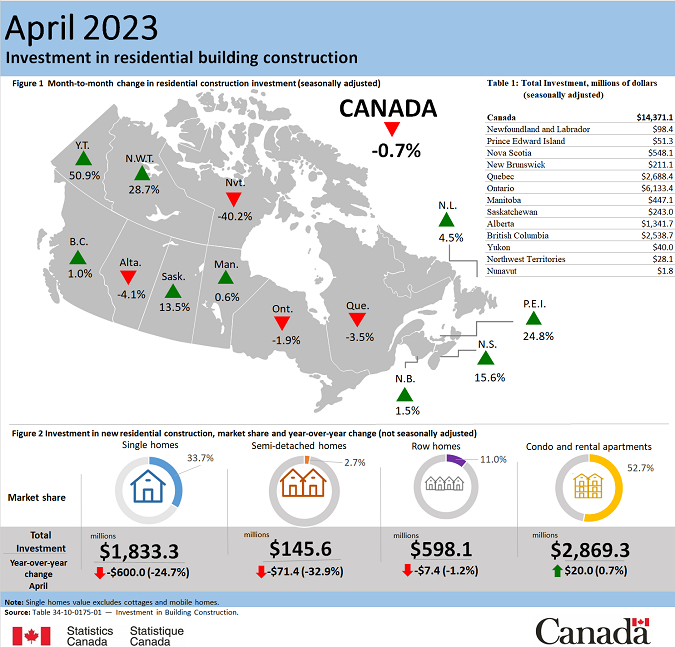 Non-residential construction investment up across all components
Non-residential construction continued to grow, up 3.4% to $5.9 billion in April. This was the largest recorded monthly increase since June 2020 for the sector. This followed a 32.0% monthly increase in the value of building permits reported in March 2023, as it reached record-high levels for non-residential construction intentions.
Industrial construction rose 5.4% to $1.2 billion in April. The start of construction of a new manufacturing building in Bécancour, Quebec helped lead the province to its 20th consecutive monthly increase in the component.
Commercial construction investment advanced 3.7% to $3.2 billion, with Ontario (+6.7%; +$86.2 million) contributing the most to the growth. This was the 11th consecutive monthly increase for the component.
Institutional construction investment increased 1.2% to $1.4 billion in April. Overall, seven provinces posted gains, led by Ontario (+2.5%; +$12.9 million).