Shrinidhi Ramaswamy finds her Passion in Marketing and Communications for the Electrical Industry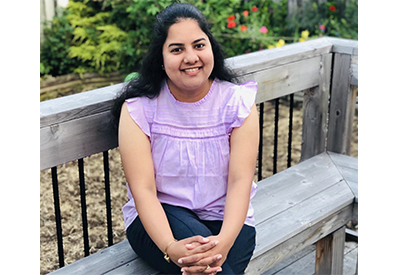 Aug 12, 2019
By Blake Marchand
Earlier this month Canadian Electrical Wholesaler had the pleasure of tabling a few questions to Shrinidhi Ramaswamy, Techspan's newly hired Marketing Coordinator for their Electrical Division. A recent graduate of Sheridan College's Marketing Management program, Ramaswamy also holds a Bachelor of Electrical Engineering, making her uniquely suited to excel in her new role.
Born and raised in Nagpur, India, Ramaswamy was a promising student in Math and Science, which, along with the influence of her family, ultimately led her to pursue electrical engineering.
"My mother always encouraged me to seriously pursue science and math throughout my schooling and collegiate. Besides, we have a lot of engineers in the family. My maternal grandfather, uncle, sister and her husband all are Electrical, Civil and Mechanical engineers," Shrinidhi explained. However, working as an engineer she would realize her passion lies in marketing and communications.
"During my engineering days I was still in the process of realizing and understanding my own capabilities and discovering my best interests," she said, "Surely, I liked technology because it controls everything around us. I realized that communication and marketing interests me a lot more than technical designing and working on machines."
Before coming to Canada, Ramaswamy worked in Marketing and Business Development with a Technical Training institution, which gave her some key on-the-job training. With that experience, Shrinidhi told CEW, "I realized that I could understand the psyche of an end user and understand the industries' needs quite closely, as being an engineer helps me to identify the pain points of my customers and provide solutions to my company for effective marketing."
"I decided to follow my maternal family, who are all settled in Canada, and study marketing here in order to gain an in-depth insight into Canadian marketing," she said, "I went ahead to pursue Marketing Management from Sheridan College, Mississauga. But it was only during my Co-op term in IESO that I realized there is a lot of scope for development in marketing within the electrical industry."
Prior to taking the position with Techspan, Shrinidhi was a Junior Analyst intern for IESO (Independent Electricity Systems Operator).
Remaining in the electrical industry, Ramaswamy is in a unique position as a marketer. She is able to utilize her technical training to great effect, giving her a depth of knowledge into the inner workings of the industry.
"I look at my engineering days as an enriching experience which gave me a deep understanding of electrical and power technology, and I'm sure the skills and expertise I gained in engineering will help me immensely in making decisions about each and every aspect of my marketing career ahead."
From here we will turn it over to Shrinidhi, who provides some in depth insight into her career thus far, her perspective on the industry, as well as some of the keys to marketing in the electrical industry.
Can you tell me a little bit about your time with IESO? What does a Junior Analyst do, and what did you take from that experience?
I had the opportunity to serve as a Co-op student at IESO in the role of Junior Analyst. Each day was a new learning experience. From devising communication strategy within the departments to developing new methods for the company to publish their reports, I learnt a lot about design and effective communication. Typically, my role as a junior analyst was to develop Communications strategy for public facing reports, to plan activities to reach the target customers effectively and improve the user experience for the audience. This included reviewing and modifying content, tone of public facing reports. This was my first experience ever in the Canadian industry. This experience helped me understand the inner depths of the Electricity Market and made me realize the wide scope this industry has to offer. It opened various avenues in Design, Communications and Marketing that I plan to build upon in future.
It has only been just over a month since you began with Techspan, but what has been your experience thus far? How does it compare to your expectations for the role?
My experience at this company has been great so far. I'm learning a lot in this fast-paced environment. My Manager, Anthony Zellermeyer, is a great motivator, always encouraging creativity and is well aware of modern marketing tools, techniques, and developments in the Electrical Industry, which creates a lot of scope to learn for me. The company itself has a family like atmosphere where you feel a great sense of comfort. For me I think it is the best thing I could have asked for at the starting point of my career. People are friendly and welcoming. What else can a newcomer ask for? I think Techspan Industries is a company where I would love to work and grow in my career.
My expectations for the role were always clear. I wanted to join a place that will make the best use of my abilities and give a sense of accomplishment. After joining here, I noticed that the people working here have been associated with the company for a really long time which meant, steady growth and development for the company as well as for the individual. There is a lot of scope for innovation and new ideas are always welcome and encouraged. The management drives forth a sense of accountability and responsibility in each and every level which brings out the best from the employees. Last but not the least, work life balance is great. So, I look forward to work each and every day.
Have there been any interesting/unexpected aspects or challenges?
There are some aspects of the job I find quite interesting. To name a few, hands-on designing and the need of constant creativity is something I am developing and learning to adapt with time. No two days are the same, which is the best part of this job. I rarely find myself with too little to do. With all the changes that marketing field has undergone over the years, new marketers like me have the exciting challenge of managing so many forms of media and advertising that previously didn't exist.
What is the right question when it comes to marketing in the electrical industry? What are some trends or keys to finding success in the current market?
The field of marketing and advertising has seen a vast change in the past decades. The Internet has disrupted all mediums of marketing from radio or TV commercials to magazines. Now, the real challenge when it comes to marketing in the electrical industry would be how to adapt our marketing strategy to paradigm shifting innovations like search engines and social media. The right question to ask:
How to leverage various forms of social media to reach the target audience effectively?
Electrical Industry needs a closely interconnected channel of media to share the gold mine of knowledge and information with consumers and companies. Marketers have a task of developing an effective communication and media outlet to benefit organizations to develop and improve in this sector in the form of Digital Magazines, effective Social media marketing on trade shows as well as new product launches and creating content for DIY contractors.
Have you had any mentor type figures throughout your career? Whether informally or formally. What is the importance of those relationships in the electrical industry?
Like I mentioned previously, I come from a family of engineers and technicians. Growing up, I was constantly mentored by a senior in grade school as well as University and eventually he went on to become my life partner. Being married to an Electrical Engineer, I am constantly in touch with the industry and get useful inputs from him about the expectations of industries and consumers in the field. This helped me understand the industry quite closely and work on my skills to best suit the requirements here.
At Sheridan, I was mentored by our Program Coordinator Prof. Doug Greenwood. He introduced me to different aspects of Canadian Marketing and helped me bridge the gap between industries in India and Canada. I learnt various aspects of Marketing in my program at Sheridan from Doug and his projects helped me gain a deeper understanding about this field.
Blake Marchand is Assistant Editor, Kerrwil Electrical Division