Shoynear Morrison — A New Presence in the Industry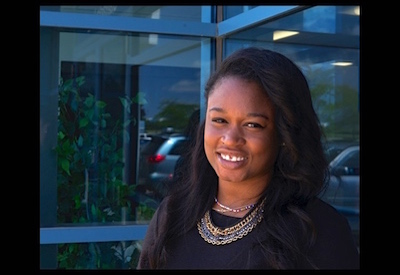 October 31, 2016
I met with Shoynear Morrison at the Lumen show in Montreal this past April — a welcomed opportunity to spend time with an outgoing new member of the industry.
Shoynear has a BA in English and a post-graduate diploma in journalism. A few months after obtaining her diploma, one job posting stood out — Communications Coordinator at Sonepar Canada. A year later, brimming with writing skills and full of energy, she is already carving out a niche within the electric distributor.
 A crash course on the industry
Although she was confident in her communication skills, Shoynear readily admits that at first she had very little understanding of the electrical industry. She managed to dive in and learn the basics with the help and support of a few key colleagues and mentors, to whom she still turns to today. Shoynear confesses that it took a little while before she found herself on solid ground. 
Always improving 
When talking with Shoynear, it soon became very apparent that she constantly strives to adapt, learn, and improve whenever possible. "During my journey so far I've learned, through the success, there will be mistakes. You have to be humbled by them and always try to become better than the time before."
"As the Communications Coordinator for Sonepar Canada, I write news announcements, press releases, content for our website, manage social networks — in short, I am the external voice of our company. This means that my work is on display for all to see, and if I make a mistake, people will notice it. At times this can be very discouraging. I used to think to myself, 'Am I working hard enough? How did I not catch that mistake before?' But I've now learned the silver lining in these situations… at least my audience is reading my work. I take all the feedback that accompanies any mistake as an opportunity for self-improvement."
Industry following
The public's lack of familiarity with the electrical industry often comes up in discussions among members of this sector and Shoynear was no exception. "The electrical industry is in the shade. The general public doesn't really know about us and few realize the importance of what we're doing." This is something she is proud of — the ability to work for something that is larger than each of us individually. "Our industry is crucial to Canada and to the rest of world."
She hopes to see the development of new communication tools, such as applications for social networks to help spread information about the electrical industry to the general population.
When I asked her what she would like to see improved in our industry, she said without hesitation more young people. "Millennials are the future of our organization and I would love to see my generation flock to the electrical industry once they've graduated from post-secondary school. Not just engineers, but students with backgrounds in economics, business, marketing, graphic design, photography… The innovation they would bring would revitalize our industry."
It can be daunting to try and integrate into the electrical industry, with colleagues or older clients. However, Shoynear wants to emphasize, "Don't be discouraged by the generation gap. Give yourself time to grow in an industry that gives you the tools to do so."
Since Shoynear has joined the industry, she has already seen notable changes. For instance, Electro-Federation Canada's Young Professionals Network, and magazines that create content that speaks directly to Millennials.
Despite her desire to see more young people within the industry, she wants to stress that she cherishes working with people of different generations, as learning from them is a treasure; their knowledge and expertise are invaluable. "They made the electrical industry what it is today and continue to support it to make it grow. They should be respected as such."
Render therefore unto Caesar the things which are Caesar's. written by 
We invite you to read these CEW articles by Shoynear Morrison: Stumbling Down the Rabbit Hole and Is Snapchat the Electrical Industry's Next Big (Marketing).