Meet the New Director of Digital Solutions at Sonepar Ontario – Stacey Corley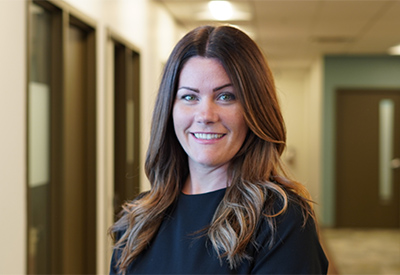 July 15, 2019
By Blake Marchand
Canadian Electrical Wholesaler was able to catch up with Sonepar Canada's Stacey Corley, which was perfect timing for CEW as Stacey was recently promoted to Director, Digital Solutions for Sonepar Canada's Ontario region.
Stacey began with Sonepar Canada at the age of 23, although she admits, "As much as I've come to love the electrical industry it wasn't what initially drew me to Sonepar, I was looking for a company where I could grow my career and climb the ladder," she explained. That was the type of opportunity Sonepar Canada had represented, and that is exactly what she did.
Stacey's first position with Sonepar Canada was with Texcan working in Credit and Collections. From there she moved into an Order Expeditor role for Trade Electric, a company formerly owned by Sonepar, although Stacey remained with Sonepar after the sale was complete.
Stacey also ran their HomeBuilder Program, which was a program that gave new home buyers the option for electrical upgrades that would be installed at the time of build. At the same time, she was the Health and Safety Coordinator as well as the Software Trainer for all of Ontario. In that role she trained all Ontario employees on the company operating systems, as well as their established work processes, procedures and workflows.
"I was able to obtain a really good understanding of all the different roles, one day I would be training somebody in the warehouse, the next day somebody in outside sales and also training our managers," she explained, "it was my bridge into operations, writing those processes and procedures gave me a really solid understanding of how the back end of our business operated and ran."
One of the keys to any profession is having a well-rounded knowledge and experience base. Although Stacey spent the majority of her professional career with Sonepar Canada, she has been able to develop a diverse range of experiences due to the nature of the company – being both corporate, local, and willing to develop from within. However, that is not to take away from her character, as her career trajectory is evidentially a result of her own resolve and ambition to advance through a company, continually taking on new challenges.
In 2011 Stacey left Sonepar Canada on maternity leave, taking an extra two years off to spend more time raising her son. She returned to Sonepar in 2013 as an Operations Supervisor for SESCO, a company acquired by Sonepar earlier that year. While with SESCO Stacey was promoted to Warehouse Manager, "I ran our CDC (Central Distribution Centre) with steel toe boots on everyday managing a team of 16," she noted.
"I thoroughly enjoyed that time because it taught me so much about processing orders, getting them to our customers, who our customers were, who our big customers were; I really got a great understanding in what happens in the customer service end with fulfilling customer orders."
Being someone who worked their way through the ranks of the company, Stacey was a hands-on manager. On any day you would find her in the warehouse picking orders, which garnered her respect from the warehouse employees, "I was definitely working with them and not just telling them what to do, I wanted to really understand what they were going through and was able to be a better manager because of it."
Her success in that role was characterized, firstly by her willingness to work with the employees she was managing, but also her ability to make quality hires, as many of the people she had a part in hiring remain with SESCO. Ultimately, she would be promoted after just one year to Operations Manager for SESCO's GTA region, managing six GTA locations.
"It was another pretty big jump, but, having executed on orders for those Branch Managers, they knew I understood our business and I understood what they were going through every day," she said, adding that there were certainly some logistical aspects of the job to get a handle on, including a branch renovation and a branch move.
Stacey spent two and a half years as Operations Manager for SESCO before the opportunity arose to move into an eCommerce role. She initially found out about the opportunity at Sonepar Canada's annual 'kick-off' meeting when the company's direction into the digital space was outlined. The VP of Digital and Director of Digital Development made presentations on what was up and coming with respect to their digital transition, and Stacey was immediately interested.
"The wheels were turning as I sat there, I was pretty excited about it so I reached out to our president," she said, to express her interest in helping out in any way she could, which turned into a formal job application.
In the initial roll out of their digital solutions for SESCO, Stacey served as the E-Commerce Customer Solutions Manager. The operation was successful as she has recently been promoted to Director, Digital Solutions. Over the next year she will be implementing their digital sales solutions across all of their Ontario operating companies.
Stacey said the introduction of digital to their SESCO companies went "extremely well, we've done exactly what we hoped we would do."
"We have incredibly solid solutions that our customers have really embraced," she added, "We have six different options, in regards to our digital solutions, depending on how they buy, how they transact; we can match them to our solutions that make sense for them," which includes their web shop, mobile app, as well as integrated solutions.
Stacey has been working with customers over the past two years learning about their buying processes and has been matching them with a solution that saves them time and money. Having a variety of options has been crucial to their success thus far.
"This bridge into digital has allowed me to make some really great relationships with our customers," she said, "my best days are the days spent with our customers." Her diverse experience base gave her invaluable insight into how the company operates. Ultimately, facilitating a smooth transition into a more customer-facing position. Giving her the insight and expertise required to work with customers and pair them with solutions that will be success for their operations.
They have gotten into the digital space at the right time, which has been evident of the uptake thus far with their SESCO operating companies.
"I've definitely watched the evolution of the industry over the past 14 years, but I've personally seen its leap in evolution by running digital." Their customers are ready to buy digitally. And that is also indicative of the direction of the industry.
Stacey has progressed through several different positions with Sonepar Canada, all of which contributing into making her a well-rounded industry professional with an in-depth knowledge of both the industry and the company. We look forward to seeing what she will do next.
Blake Marchand is Assitant Editor, Kerrwil Electrical Group