Rittal Rises to the Covid Challenge to Win a Prestigious EFC Marketing Award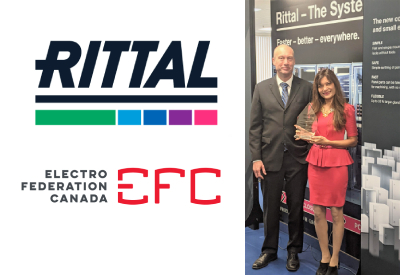 November 25, 2021
The current crisis has reiterated the importance of combining a personalized and digitalized marketing strategy to reach customers far and wide! Rittal System Ltd., Canada, world leading producer of electrical enclosures, climate control, power distribution & IT Infrastructure solutions and software, has been executing a truly integrated marketing strategy by combining the personal touch with the electronic media, to win an Electro-Federation Canada Marketing Excellence Award for the fourth year!
The EFC awards were presented on November 24th, at EFC's digital "Future Forum". It is important to understand that EFC's Marketing Awards program recognizes organizations that demonstrate marketing excellence and innovation within the Canadian electrical manufacturing and distribution industry. All entries are always reviewed and selected by an external panel of judges with expertise in each category, adding to the credibility of the awards.
Said André Bousette, President, Rittal Systems Ltd., Canada, "Although we are honoured to win yet another EFC Marketing Excellence Award, we are even more delighted that our marketing strategy keeps evolving year after year, in our quest to reach new markets and to touch more customers…. our goal is to keep our brand awareness growing further year after year, with innovative ideas and unique strategies."
This year's EFC Marketing Excellence Award was presented for the evolution of the German Technology Day from a 4-company live event in 2019, to a virtual event in 2020, to the combination of a live and virtual event in 2021, with seven Canadian Companies showcasing the best of German technology in Canada: Rittal, EPLAN, Bosch Rexroth, FESTO, PILZ, MurrElektronik, PILZ and WAGO.
Added Sandra Abuwalla, Marketing Lead, Rittal Systems Ltd., Canada, "German Technology Day (GTD) is far more than just an 'event'….it is the amalgamation of a year's planning with a team of global companies and includes every form of integrated marketing involving on-line and off-line advertising, articles, interviews, targeted emails, social media, and culminating in days rich with sessions from industry thought-leaders, exciting exhibits of technological brilliance – delivered in Toronto in English as well as in Montreal in French this year, plus a fully virtual event for those who wanted to participate on-line".
Electro-Federation Canada and media partners from Annex and Kerrwil fully supported the GTD events, magnifying their presence with thousands of views in various forms of the media. Following the success of this year's event with over 500 participants, there are plans to invite all German Companies based in Canada to participate in 2022, plus take it to new locations. To view all GTD sessions and learn more about the event, please visit: www.germantechnologyday.com