Register Now for EHRC Awards of Excellence 2019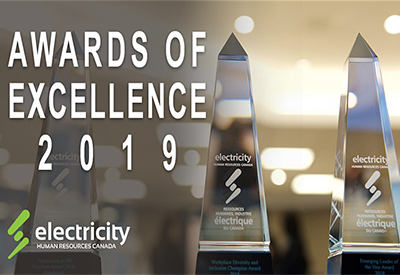 Dec 11, 2019
Join Electricity Human Resources Canada in Toronto on Wednesday, February 19, 2020 for this year's Awards of Excellence.
Canada is home to a world-class electricity sector, full of incredible innovation, phenomenal employers, and exceptional leaders in all areas. This high-calibre quality comes from the contributions of outstanding individuals and teams that advance our human resources best practices.
To recognize these contributors, Electricity Human Resources Canada (EHRC) annually hosts the Awards of Excellence. These awards celebrate the extraordinary achievements while giving national recognition to employees, teams, or leaders who are making a positive and tangible impact on the workforce, awards are given in the following categories:
Leader of the Year
Emerging Leader of the Year
Innovation in HR Practices – Educational / Training Institution Award
Innovation in HR Practices – Employer Award
Workplace Diversity and Inclusion Champion Award
The Awards of Excellence includes a cross-industry panel featuring leaders from across the country, lunch, and distribution of awards.
Go HERE to register