Ouellet Group Named One of Canada's Best Managed Companies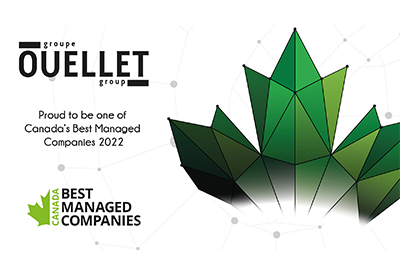 May 11, 2022
Ouellet Group is extremely proud to have been named one of Canada's Best Managed Companies. This yearly prestigious designation recognizes Canada's best companies who lead by example with their excellent business practices.
This recognition is the result of outstanding growth over the last few years, acquisition of brands and businesses to expand its range of heating and air-conditioning products, and the collective efforts of its dedicated employees.
Ouellet Group has stood out for its growth-driven business strategy, which has strengthened its position as an industry leader in a sector hit by the pandemic. This is a testament to its ability to adapt, innovate and excel in unprecedented circumstances.
In addition, the group of companies is proud to be recognized as a top employer for its employees and culture. Annick Tremblay, VP of Human Resources at Ouellet Group, said: "The company's values and management programs help its employees flourish and participate in the company's activities, strategies and success."
Ouellet Group is determined to pursue its commitment to partners, customers, suppliers, employees and shareholders. Louis Beaulieu, CEO and shareholder in the family business, added: "We are extremely motivated to keep expanding the business in our industry. We have a strong foundation and an ambitious business plan to continue this growth."
To qualify as a Best Managed Company, a group of experts evaluates the company against four pillars:
Strategy
Culture and Commitment
Capabilities and Innovation
Governance and Financials
For more information, visit HERE.