OmniCable Receives Belden Value Award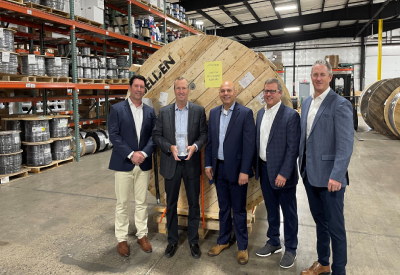 April 7, 2021
OmniCable was recently honored as a recipient of a Belden Value Award (Americas – North America, Latin America, Canada). "We are proud to receive this prestigious recognition from Belden, a leader in the industry. Our shared values and commitment to excellence are the foundation of our partnership and what drives our mutual success," said Greg Lampert, OmniCable's President & CEO.
OmniCable, a premier redistributor of Belden, was one of six industry leaders honored. These awards recognize Partner Alliance Distributors that live out at least one of Belden's six core values. These six values emphasize results and continuous improvement and encourage employees and distribution partners to deliver exceptional experiences to customers.
OmniCable received the We Play to Win – Belden Value Award for being accountable for its performance and outperforming the competition.
Below is why Belden chose OmniCable as the recipient of the We Play to Win award:
OmniCable is a trusted industry leader with extensive Belden inventory. They are recognized for their operational excellence, reliability, and the customizable services they provide electrical distributors. As a Belden partner for more than 11 years, the OmniCable team demonstrated its exceptional commitment to growth this year through ongoing collaboration with Belden's regional sales teams within the electrical distribution market. To drive Belden solutions as the center of the global transformation to a more connected world, OmniCable delivers a comprehensive product portfolio in the US and Canada.
Each year, Belden's sales teams nominate partners based on performance and activities from the prior year, and the winners are carefully selected by the Belden Partner Alliance Committee. "Our distribution partners serve a fundamental role in driving adoption of Belden's infrastructure, automation, and cybersecurity solutions in the global market," says Anshu Mehrotra, SVP Sales and Marketing at Belden. "They demonstrate great effort toward mutual success, and we are honored to recognize their extraordinary commitment to our values."