An Interview with FLO's Michael Pelsoci: Driving Insights into Municipal EVSE and Public Charging Applications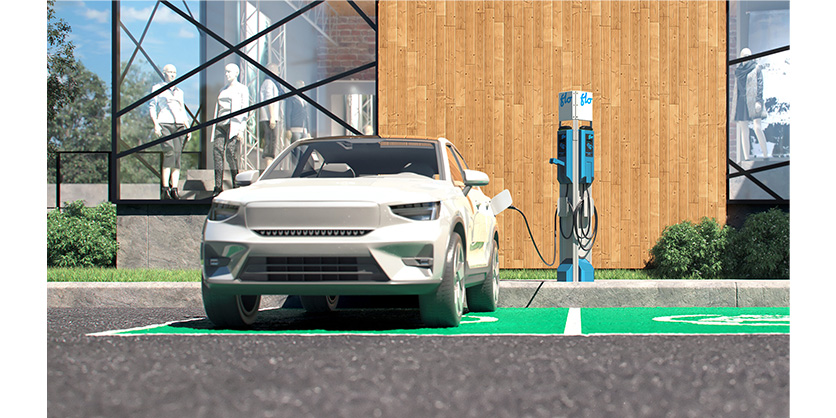 April 18, 2023
Ben Wells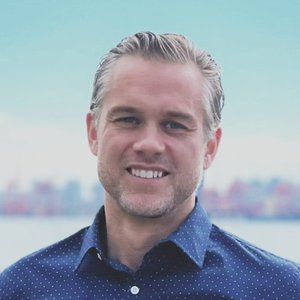 Meet Michael Pelsoci, Regional Sales Director for the Pacific Northwest region at FLO, a North American electric vehicle (EV) charging network operator and smart charging solutions provider, and a valued partner of DAD Sales. With a wealth of experience in key account management and a genuine passion for sustainability and cutting-edge technologies, Michael has established himself as a highly regarded business development executive. His exceptional ability to help organizations achieve their objectives through creative thinking and outside-the-box solutions has earned him a reputation for delivering results.
FLO is committed to driving innovative and sustainable solutions that support the transition to electrified mobility. To that end, it recently launched the FLO Ultra DC fast charger at the DISTRIBUTECH 2023 conference, setting a new standard for next-generation EV chargers and solidifying its position as a provider of advanced and reliable charging solutions in North America.
DAD's Application and Product Solutions team collaborates with a talented group of designers and consultants to help owners meet their EVSE goals. We provide assistance by assessing the use case, determining the charging time and range needed, and determining the necessary power requirement to maximize ROI and minimize waste of valuable capital.
Our expertise ensures that owners choose the right-sized EVSE model, resulting in a successful outcome. Through a series of interviews with industry experts, we aim to educate owners on the critical application considerations for EVSE in various applications, empowering them to make informed decisions.
D.A.D. Sales is a customer-centric company with an outstanding over 40-year history of success as a manufacturer's representative for high-quality electrical equipment. Our expert team, boasting technical expertise and a collective 150 years of experience in the electrical equipment supply industry, is dedicated to providing exceptional service to our customers.
Municipalities and Public Charging
Like DAD Applications and Solutions, Michael places a strong emphasis on selecting the right municipal EVSE system to meet the unique needs of public charging. He believes that a deeper understanding of the applications of EVSE is critical to advancing EV adoption in North America, particularly in cases where municipalities own the charging equipment.
According to Chris Thorson, FLO's VP and Chief Marketing Officer, "The industry must continuously evolve and grow to advance EV adoption in North America. With FLO's legacy of innovative and reliable smart charging solutions, we are proud to launch the FLO Ultra, designed to exceed the expectations of EV drivers and site owners, and look forward to its positive impact on the industry." We received a ton of invaluable insight from Michael about municiple and Public Charging infrastructure at the recent Distributech International Conference in San Diego, CA, and present the entire interview for you here:
---
BEN: Thanks for the time to discuss this application with you. Perhaps we can start with the levels in EV charging. What are the different types of EV charging infrastructure and why are they important?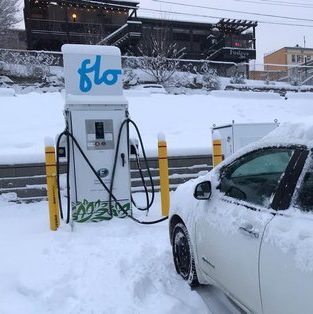 MICHAEL: Thanks, Ben. There are two main types of EV charging infrastructure: Level 2 charging stations and public DC fast chargers. Level 2 charging stations are typically used at home, work, or in public spaces, while public DC fast chargers are used for in-transit charging during long trips. A comprehensive citywide charging strategy must consider the deployment of both types of chargers to make it easy for drivers to charge their EVs and remove the worries that may otherwise prevent an EV purchase. Employers can also provide EV charging at work to attract and retain employees, and cities can install Level 2 chargers in city-owned parking lots and electrify their own fleets of cars, trucks, and buses.
BEN: What are some of the challenges cities face in expanding EV charging infrastructure?
MICHAEL: Cities face a diverse range of challenges such as differences in municipal priorities, electrical infrastructure, geographic spread, budgets, and housing stock. These differences result in varying strategies for EV charging infrastructure.
BEN: What policies and planning efforts are important for advancing public EV charging infrastructure?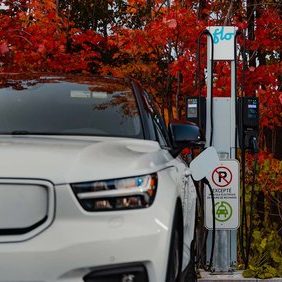 Advancing public EV charging infrastructure requires a coordinated effort from local government, utilities, and charging companies. To achieve this, several complementary policies and planning efforts are critical to support the development of EV charging infrastructure.
First, dedicated, ongoing incentives for EV chargers are critical to helping bring down overall costs and send a strong market signal to customers to purchase chargers.
Second, utilities need a strong, well-defined role to invest in EVs and EV charging. We have seen several states allow utilities deploy EV chargers at scale through a comprehensive suite of programs. Such well-defined utility roles have been instrumental in scaling the market.
Third, complementary policies such as Clean Fuel Standards, streamlined local permitting processes, and robust reliability requirements for chargers all help with overall economics, expedite deployment processes, and ensures customers are having a positive charging experience.
Finally, FLO in particular specializes in curbside charging deployment, which is still relatively new. We have found that to make curbside charging possible, cities and utilities need to take a proactive stance in their policies. This can include but is not limited to: setting curbside charging station deployment goals, , specifying right-of-way locations eligible for public EV charger incentive programs, and ensuring incentive amounts cover varying installation costs. Additionally, standardizing local permitting applications and processes and identifying sites and infrastructure to become "curbside ready" are critical to the success of public EV charging infrastructure.
BEN: What can municipalities do to tie into public infrastructure?
MICHAEL: Aside from using existing street poles, incorporating charging into other construction initiatives brings great value. For example, in the US, the City of Los Angeles took advantage of its transition to LED streetlights to expand EV charging. The transition freed up excess electric capacity and provided convenient locations for installing chargers. Los Angeles implemented EV charging services on existing street light poles as a cost-effective way to deploy them across a wide geographic area.
BEN: What should city leaders consider when developing plans to electrify and decarbonize transportation?
MICHAEL: City leaders should focus on addressing range anxiety – one of the greatest barriers to EV adoption – by expanding public curbside Level 2 charging and investing in demonstrably reliable EVSE solutions.
BEN: What is the biggest impediment to EV purchases among urban residents?
MICHAEL: The biggest impediment to EV purchases among urban residents is ready access to chargers. This is also known as "charger desert." We've also heard the term "garage orphans".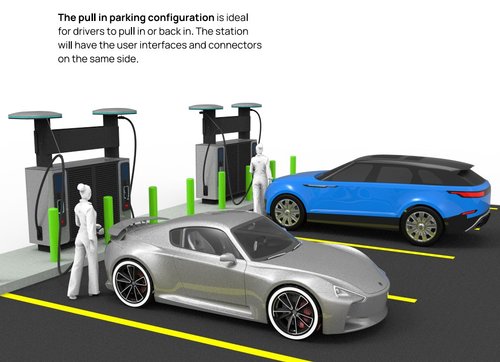 BEN: Now that you have launched the Flo Ultra, why is curbside Level 2 charging important for cities? Is it still relevant with the new speeds in DCFC?
MICHAEL: Curbside Level 2 charging is important for cities as it reduces the barriers to EV adoption for residents of multi-unit buildings who may not have access to a home charger. It also meets the needs of the increasing number of EV taxis and ride-sharing companies. Additionally, locating Level 2 charging stations near shopping destinations or businesses can encourage more economic activity and is also a great way to drive customers to a business through the Flo app. Rightsizing is the post important aspect, level 2 solutions in segments where EVs are parked for extended amounts of time is the most appropriate use case.
BEN: Can you give an example of a city that has implemented curbside Level 2 charging?
MICHAEL: At this point several of municipalities in Canada have Flo public charging including Edmonton, Calgary, Montreal, and Victoria to name a few. In the US, New York City is an example of a large deployment of Level 2 curbside charging. The New York City Department of Transportation and FLO announced the first 100 curbside Level 2 charger installations across 20 neighborhoods in all five boroughs of the city. The aim was to provide a convenient and publicly accessible charging network for EV owners.
BEN: What is the importance of a strategic partnership in EV charging strategy development?
MICHAEL: Developing a cost-effective and right-sized EV charging strategy is essential for cities with limited budgets. By partnering with an experienced and knowledgeable company in the EV charging industry, cities can avoid wasting valuable resources and provide the best charging experience for their citizens. Vertical integration and a full suite of post-sale services offered by companies like FLO enable cities to achieve their objectives and receive analytics and insights to monitor utilization and make informed decisions. In addition, strategic partnerships can ensure access to spare parts, services, and network uptime, which are crucial to the smooth operation of charging stations.
DAD Sales has played a significant role in rightsizing EV charging applications, and this also plays a role in the partnership. It is critical to have an understanding as to the use case for each application to prevent unnecessary waste.
BEN: What are the benefits of working with a strategic partner like FLO for electric vehicle (EV) charging infrastructure development and deployment?
MICHAEL: Working with a strategic partner like FLO provides cities with several benefits for their electric vehicle charging infrastructure needs. FLO is a vertically integrated supplier, meaning they handle everything from the design and manufacturing of charging stations to operations and maintenance support. This ensures maximum customer and driver satisfaction and a single point of contact.
FLO's charging stations are highly reliable and are supported by a full suite of post-sale services such as automated billing, remote firmware and software updates, maintenance and monitoring of station uptake, and resources for future investments. The FLO analytics and insights dashboard, SmartVIEW, helps clients plan and scale their EV charging deployments by monitoring utilization and measuring key metrics. This helps cities understand their station uptake, optimize their current deployment, and develop indicators to scale their deployment as the need for charging services grows.
BEN: How does FLO ensure a secure charging experience for its customers?
MICHAEL: FLO takes customer security very seriously. Its commitment to security starts with it collecting as little user data as it needs to provide charging services. For example, FLO does not collect or store financial information necessary to process payments for charging services. All its charging stations allow users to pay for their charging session via third party payment processors that are PCI DSS certified and meet the highest industry standards (I.e. Stripe, a PCI certified auditor and Level 1 PCI Service provider, Nayax, a PCI DSS 3.2 service provider).
FLO backs its commitment to security in numerous other ways as well. To cite just a few: it uses data protection measures that meet stringent security and data privacy requirements; it has implemented appropriate organizational controls to protect user personal data from loss, theft or unauthorized access; and it complies with breach notification laws, which means it will let users know of any breach of security whenever it is legally required to do so.
BEN: Why is PCI compliance important for the FLO network?
MICHAEL: Compliance with Payment Card Industry Data Security Standards reduces the risk of credit card fraud and gives EV drivers confidence that their payment information is being handled securely when they pay for charging services. It is therefore is crucial for building trust in EV charging networks and, by extension, driving EV adoption.
BEN: Why is it important for municipalities to store data in Canada?
MICHAEL: Most municipalities consider data residency and sovereignty when storing data in the cloud. Data residency refers to where data is physically located, and it's important to keep data within Canada's geographic boundaries for business continuity and access to vital data and services. Data sovereignty is important to ensure full control over the data, as other countries' laws could also apply to data stored in the cloud. Storing data in Canada helps maintain control over this data and ensures compliance with Canadian privacy laws.
---
Driving the Transition to Electrified Mobility
As the adoption of electric vehicles continues to grow, the need for a reliable and efficient charging infrastructure becomes increasingly important. DAD Sales, together with FLO, is committed to driving sustainable solutions that support the transition to electrified mobility. With a focus on rightsizing EV charging applications and a deep understanding of the importance of strategic partnerships, DAD Sales and FLO offer expertise in EV charging infrastructure development and deployment. By working together, municipalities, utilities, and charging companies can implement key policies and planning efforts to advance public EV charging infrastructure, reducing barriers to EV adoption, and encouraging sustainable solutions for transportation.
With the launch of the Flo Ultra, FLO continues to set the standard for next-generation EV chargers, solidifying its position as a provider of advanced and reliable charging solutions in North America. By prioritizing security and compliance with Canadian privacy laws, FLO ensures a secure and dependable charging experience for its customers, offering a full suite of post-sale services and the insights to make informed decisions for future investments. Together, DAD Sales and FLO are empowering owners to make informed decisions and helping to drive the transition to electrified mobility.