Martin Stephenson – A Focus on Connectivity and Sustainable Innovation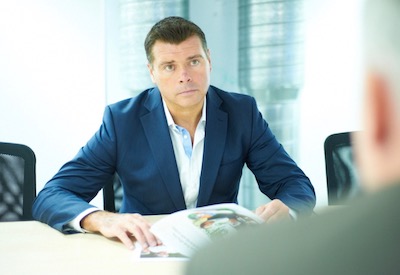 Mar 25, 2021
By Line Goyette
As of February 2021, Martin Stephenson is the new President and CEO of Signify Canada. Given that he took office nearly a year into the pandemic and its related restrictions, it is easy to imagine him drawing on past experience to lead Signify's response to this current health challenge and its consequences for Canadians and Canadian business. I first asked Martin, "How has your journey led you to the position you hold now? What were the most important moments?" If I were to sum up his answer in three words, I would say automation, connectivity and sustainable innovation. Here's what Martin told me.
"I was born in England but studied mostly in Germany as part of my time with the Armed Forces. I focused on electrical engineering, then moved on to law. After leaving the army, I moved to a systems integration company, where I first became interested in automation and then sustainability.
"I worked for Schneider Electric in the U.K. for 18 years, with a focus on process automation, energy management and sustainability. I then moved to a more strategic role that involved travelling across the whole of Europe."
At this point in Martin's career, he and his wife moved to Canada for family reasons (his wife is Canadian). Martin assumed the position of Vice President – Process Automation for Schneider Electric, based in Quebec and then Toronto.
After choosing to leave Schneider Electric, he formed his own management consulting firm, advising clients on innovative strategies for growth, operational health and sustainability. Martin joined Signify in 2019 as Head of North American Professional Systems and Services, and in February 2021 became President and CEO of Signify Canada in addition to his existing Head of Systems and Services role. "I'm here to stay. Canada is my second home."
Part of the appeal for Martin is "a culture in Canada that places a lot of value on sustainability and energy management, and this matches Signify's values."
Martin enthusiastically quotes the results of Signify's Brighter Lives, Better World 2020 sustainability program: "In 2020, we achieved carbon neutrality for all our operations across the world and now use 100% renewable electricity. We also generated 84% of our revenue from energy-efficient products, systems and services, exceeding our target of 80%. On top of that, we sent zero waste to landfill across all our manufacturing sites. With a supplier sustainability performance rate of 99%, we were well ahead of our 2020 target of 90%. Canada is committed to reducing its energy consumption, and I want to contribute to it with sustainable lighting solutions that allow us to be more efficient.
"It is hardwired into our purpose, our strategy, and the way we do business. We need to address some important challenges of our time — climate change, resource scarcity, population growth and urbanization. They shape the needs of our customers, our employees, and the society we live in. We also want to assure a safe and healthy workplace for our employees."*
Turning to the pandemic, Martin says "it requires us to work more closely with clients — to work with them on preparing the infrastructure for returning to work. We have the technologies to support them in this challenge, such as a comprehensive offering in UV-C to allow a safe return to work, and monitoring and mapping the flow of people in offices to support, for example, more rigorous cleaning in areas where people congregate. I see my role as an ambassador of these technologies, presenting solutions that make sense to our clients. The solutions are available now, not in the future. We have the technologies."
Trends in lighting
"Connectivity is the game changer in lighting, building infrastructures of connected lighting, roads and streets, homes, offices. To support our clients more effectively and efficiently, we are digitizing our engagements and our processes. We know how to use technologies to create closer and more productive relationships with clients."
Martin sees the pandemic environment in which he assumed the role of president and CEO for Signify Canada as far from an obstacle. "It's been an opportunity to better understand clients' needs, to explore new ways of working, to support them and the members of our team."
Line Goyette is Managing Editor of Kerrwil Publications' Electrical Group.
* Signify has followed up on Brighter Lives, Better World 2020 with Brighter Lives, Better World 2025, which sets ambitious new goals for the global organization.