Leadership, D&I, Supply Chain, and how Schneider Electric is Driving Electrification Through Digitization with Adrian Thomas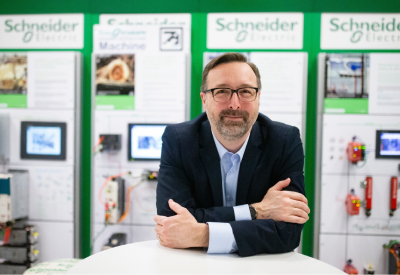 March 16, 2022
By Blake Marchand
Adrian Thomas has been with Schneider Electric for 6 years, serving in several roles before taking on the challenge of Canadian President for Schneider Electric in January of 2021. We spoke to him about his experience in the role so far, his approach to leadership, energy management, supply chain resilience, how digitalization is enabling sustainability, and the importance of diversity and inclusion.
Thomas stepped into the role during the pandemic, which obviously presented some unique challenges, being in different roles throughout his time with the company, Thomas said he felt that he knew Schneider Electric and the Canadian market well, but COVID provided some uncertainty.
"Nobody knew well the COVID environment and what was happening, it was a very interesting time to transition into a role like that. It gave me a very clear priority and focus coming in, which was really ensuring the safety and well being of our teams."
"It's a year where I had to be very focused as a leader," he added. Being the second year of the global pandemic, beyond business commitments and managing protocols, a key focus was a balance of well-being and mental health for Schneider Electric employees.
Before being appointed Canadian President for Schneider Electric, Thomas managed the company's home and distribution business, relationships with channel partners, their digital energy business (which houses building automation and digital energy services), as well as their electrical distribution business.
That experience, he said, "gave me a good cross section of the go-to-market models that we have, it gave me good interaction with our different customers across Canada, and, certainly, I got to meet a lot of our different employees. The fun thing about being country president is you get to meet a lot more customers and a lot more Schneider Electric employees."
"The other nice thing about being country president is to get connected to some of the other facets of the business, in addition to the just sales that we do in Canada." Those facets include becoming more familiar with a couple of their large factories in Edmonton and Montreal, their R&D groups across the country: the Centre of Excellence for Building Automation in Montreal, the Centre of Excellence for SCADA Development in Kanata, as well as one in Victoria for metrology.
Taking on those various roles throughout a six-year span was in part about gaining experience in different aspects of the company, broadening his knowledge of the company's operations, and building relationships with different client bases, as well as different branches of Schneider Electric.
"In order to lead an organization, I think it's critical that you spend some time with customers."
Schneider Electric's largest go-to-market in Canada is electrical distribution, Thomas said his time with that division was instrumental in his development as a professional.
"That time in gaining experience and working with and developing relationships and partnerships with our wholesale distribution partners, that was critical," he explained, "knowing that very important client set is pretty critical if you're going to lead the organization. But I can also tell you I didn't have experience in field service, I think that's another critical area."
We also asked Thomas about his perspective on leadership and how he approaches the challenge of leading a company like Schneider Electric:
"My philosophy is really around getting the most out of people. To do that you need to do, I think, a couple things. You need to be authentic. No leader is the same, but you have to be yourself. Two: I think you need to lead with care, and that means a lot of different things. As I mentioned earlier to get the best out of any given team, people have to feel safe and secure and appreciated. So, when we talk about leading with care its about treating people as you want to be treated. The last thing on leadership from my perspective, is you have to care very deeply, yet at the same time you can't always take things personally. I think that's an important thing, when I work with my team, creating the context that we look at: what are we trying to do? How are we trying to do it? And when tough times arise, looking for the solution and not the blame. I think that attitude keeps us moving forward."
Thomas also said that its important not to lose focus on developing the next generation of leaders. After joining Schneider Electric, Thomas collaborated with their HR team to develop their Pulse Program, "that develops our early career talent and gives them an opportunity to bring solutions and ideas to the company."
"I think that its super exciting, it inspires me, and I learn from them," he said, "new emerging talent, I think, is critical for the human resources sustainability of a company."
Supply Chain
"There are two real focus points here and I think the first, which everyone is experiencing, is the demand for residential constructions and residential products growing exponentially and creating bottlenecks in supply chain. Some of the short-term focus is getting supply chain up to the demand cycle."
Earlier in the pandemic COVID protocols had an impact on manufacturing productivity, transportation, and logistics. "I would say that's sort of been addressed but at the same time, even if we went back to 2019 and we had this sort of demand, without COVID, the ramp rate was so fast it would be difficult to manage."
Over the past year and a half Schneider Electric has committed to over $100 million in capital expenditures to build more factories in North America. "Those will contribute to having more supply in the residential market space," said Thomas to meet the increased demand now and moving forward.
"And we do foresee that the trend in residential to be more sustainable is certainly there, to make sure there's availability of products for those homes to be built is crucial."
Those investments also address supply chain resiliency, "what we've seen over the last couple years, winter storms, the freezing in Texas disrupting plastics. We've seen issues around electronics and material availabilities. So, in terms of building that resiliency, we've worked a lot with suppliers and qualifying additional suppliers into the supply chain," he explained, "it's more than just building a factory, it's making sure the whole upstream supply chain has the capacity and capability to support you."
"This is our primary priority when thinking about our customers, it's our responsibility to find solutions that help us get them the products they need, when they need them."
Residential Energy Management
From the long-term perspective in Canada, Thomas said, with building codes evolving to be more energy efficient, and "as we look at energy costs rising and energy conservation being a bigger piece of our lives, then we have to find ways to manage this," explaining that, "The way we see the future of this, is not just more electricity but using electricity and energy smarter. This is where we're focused."
A big part of that is Schneider Electric's Wiser Energy, which has been recognized by industry awards as an innovative solution for energy management. Our article with Schneider Electric's Lorne Hedges looks at how Wiser Energy works, as well as their Square D wiring devices, which utilize the same technology to monitor energy usage while also providing home automation functions.
Thomas said what they are hearing from home builders is more and more clients are looking for a more sustainable house and Wiser is a key piece to that. Additionally, they've added a Wiser Approved Installer Program for electricians.
The goal of the program is to educate electricians on the product and how to explain its benefits to customers, while providing additional benefits to electricians getting access to discounts, technical support, as well as visibility to new customers through Schneider Electric's Partner Locator.
"That's created quite an upspring in terms of adoption. I think there's a benefit of really making sure the ecosystem and how consumers access the product is well co-ordinated, and that's what we've done with the installer program."
Sustainability
Schneider Electric has made a lot of progress on sustainability in recent years and were recognized by Corporate Knights in 2021 as the most sustainable corporation. A big part of that is employing their own technologies on their operations as well as throughout their supply chain.
"Our strategy for 2022 is to build on this journey we've been on around being more sustainable and helping our customers be more sustainable. In terms of supply chain, not only is it about bringing on additional suppliers, we have something we call the Zero-Carbon Project. This is a project where Schneider Electric is working with their top thousand suppliers to reduce their carbon footprint by 50% by 2025."
"We have a tremendous amount of digital technology that we can help customers," he added.
Schneider Electric's EcoStruxure Platform is the IoT system architecture that drives sustainable operations from a performance standpoint as well as energy efficiency by collecting and analyzing data to optimize operations across a number of different industries. Some of which include building operations, IT, electrical grid, manufacturing, microgrids, automotive and eMobility, mining, and water/wastewater.
Thomas explained that "this is all about connecting products on the shop floor, providing control so they can better optimize that, and bringing that data into the cloud so we can do advanced analytics."
EcoStruxure and the data analytics is also about improving productivity, which is only becoming more important, "When you're in a supply chain constrained environment, helping customers get more out of the factories, facilities, and equipment they have is really crucial. So, we'll continue working with customers and driving our EcoStruxure platform to help people be more productive and be more efficient and sustainable at the same time."
"In this whole discussion around sustainability, the enabler is digital," he explained further.
"Software is playing a bigger and bigger role in all our lives, in the industrial setting as well, our focus is: technology is a way that we can really make a positive impact on the world. We have a lot of commitments at Schneider Electric in terms of being sustainable and we're delivering those through digitization. I think that to some degree COVID accelerated this digitization, we've gotten comfortable with remote work, we've gotten comfortable being more and more active in a virtual setting and I think this is just the tip of ice burg. I'm really excited about what software will bring us and how that will help, not only customers perform better, but how it will help us achieve a climate positive world in the future."
As part of that strategy, Schneider Electric recently launched their EcoStruxure Microgrid Solution in Canada, as well as a supply chain decarbonization service, which utilize digital tools to help companies and organizations become more sustainable. Additionally, a recent report from Schneider Electric and CNBC shows that companies can reduce emissions by up to 19% through digital tools.
Diversity & Inclusion
Another core focus for Schneider Electric, Thomas said, is diversity and inclusion. Broadening the perspectives within the organization has been key to their success as a company. They have signed on to Canada's 50 – 30 Challenge, which is an initiative by the Canadian government to encourage organizations to adopt practices that improve equity. The two main goals of the challenge are to improve gender parity by making executive boards and senior management 50% women and/or non-binary people, and improving representation at board/senior management level to 30% for people of colour, people with disabilities, and 2SLGBTQ+ people.
In addition to the 50 – 30 Challenge, Schneider Electric has also earned the Women in Governance Parity Certification for gender pay.
"This will continue to be an important focus for Schneider Electric and Schneider Electric Canada, but I think it's also something where I've also been a voice in the market itself. The electrical market is a market where we have a labour shortage and a great opportunity for us is to find a way to encourage more women to come into this industry. It's a very exciting industry with a tremendous amount of growth, I think there's a huge opportunity for the whole industry to benefit by getting more diversity."