AD's Independent Distributor Community Connects Across Industries at 2023 AD Summit to Share Best Practices Among Functional Area Leaders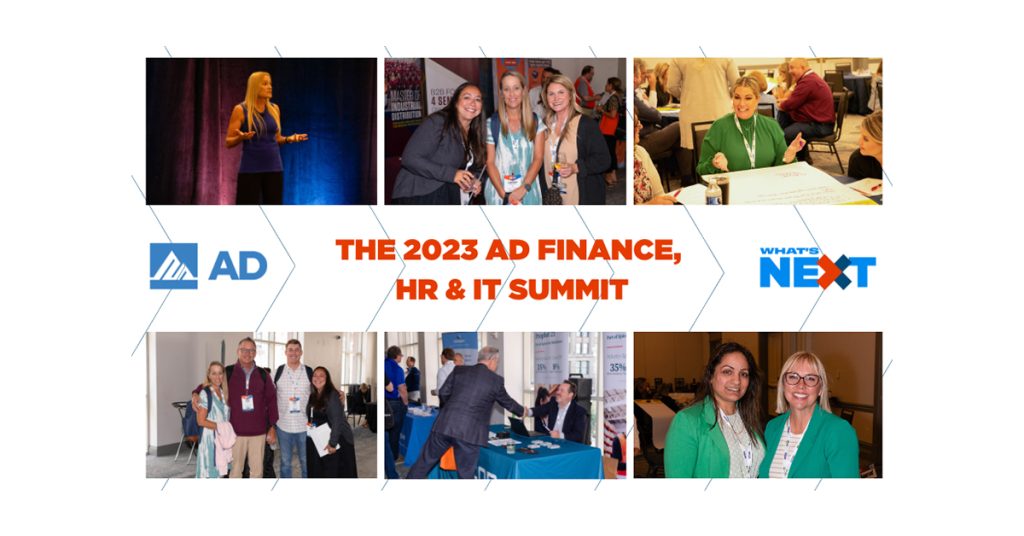 August 11, 2023
Almost 200 people from AD member and service provider companies across various industries and multiple countries gathered in St. Louis at the 2023 AD Finance, HR & IT Summit from July 19 to 21 for three days of cross-functional collaboration and best practice sharing.
"Across finance, HR and IT, our industries constantly shift and require us to stay up to date on the newest trends and opportunities available to us," said Drew Moyer, AD's Chief Financial Officer. "This forum is instrumental in helping our community learn from each other and collaborate, and our members find great value sharing ideas with their peers in other distribution segments."
The Summit featured over a dozen breakout sessions with a diverse range of topics across finance, HR and IT, giving attendees choices in their areas of expertise, as well as opportunities to branch out to fields of interest to them. Popular session topics included artificial intelligence, data analytics, the impacts of inflation and supply chain disruptions, data analytics, cybersecurity, recruitment trends, understanding a new generation of workers, employee upskilling, and employee experience.
"We've been getting together leaders from independent distributors across North America to learn from experts and their peers on challenges that many companies face and opportunities to support their people strategy," said Neil Cohen, AD's Senior Vice President, Human Resources. "Focusing on these areas allows our participants take ideas back to their companies that will help them more effectively hire new talent, develop their people and ensure that their employees have a great place to work."
"These functional leaders in the AD community get immense value from the wide variety of breakout sessions and networking events across the three days," said Dan Koch, AD's Vice President, Information Technology. "The Summit truly represents the collaborative spirit of the AD community in our shared efforts to effectively compete, grow and win together."
Keynote speaker Robyn Benincasa presented after opening remarks from AD leaders. Benincasa – a champion adventure racer, San Diego city firefighter and CNN Hero – shared her insights into how winning works, how the AD community can apply those winning principles and how Summit attendees can build world class teams that succeed against the toughest odds.
ITR Economics CEO and Chief Economist Brian Beaulieu, another key speaker, shared his research and expert insights about the U.S. and Canadian economies, inflation, labor markets, economic trends and all things impacting independent distributors.
Leaders from AD service providers hosted education and information sessions on Wednesday afternoon, offering thought leadership and expertise on ways that AD members can increase efficiency, improve operations and otherwise help their businesses. Attendees also had the opportunity for further discussion and professional relationship-building during the service provider tour on Thursday evening.
Attendees also had access to multiple receptions and informal networking opportunities throughout the Summit.