Investment in Building Construction Dipped 1.9% in May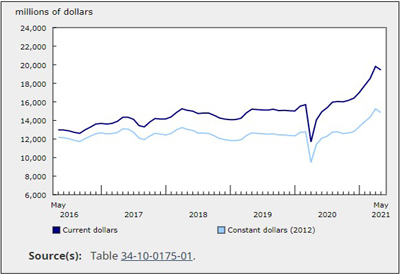 July 12, 2021
Investment in building construction cooled slightly in May, decreasing 1.9% to $19.4 billion. This was the first drop in seven months. Residential construction investment (-2.7%) was down for the first time since April 2020, while non-residential construction increased slightly.
On a constant dollar basis (2012=100), investment in building construction declined 2.7% to $14.8 billion in May.
Residential investment declines for the first time since April 2020
Residential construction was down 2.7% in May, bringing total investment to $14.8 billion with declines in both single and multi-unit construction.
Investment in single-family homes was down 2.7% to $8.3 billion. Quebec and Ontario posted the largest declines. Despite the decrease this month, single-unit investment remained approximately 60.0% above pre-COVID-19 levels.
With half of the provinces decreasing, multi-unit construction investment fell 2.6% to $6.5 billion in May. Quebec reported the largest decline (-11.0%), reversing a 13.0% increase in April.
Non-residential investment posts small gains
Non-residential investment increased 0.6% to $4.7 billion in May.
Investment in commercial construction increased 0.8% to $2.6 billion. Ontario continued to lead this component with multiple high-value construction projects in the works across the province such as Amazon fulfillment centres, the Labourers Union office building in Vaughan and a Canadian Tire distribution centre in Brampton.
Institutional investment continued to grow for the seventh consecutive month, up 1.2% to $1.2 billion. Quebec led the way, advancing 3.7% to $341 million. Ontario, Alberta and Prince Edward Island were the other provinces to report notable gains.
Seven provinces saw declines in industrial construction, which decreased 0.7% to $837 million nationally in May.
Source: Statistics Canada, www150.statcan.gc.ca/n1/daily-quotidien/210712/dq210712a-eng.htm?CMP=mstatcan