Integrated Marketing Presentation from Anton Morrison of Appnovation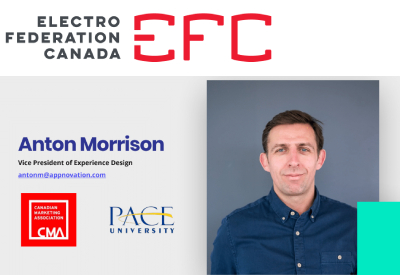 Mar 2, 2021
On February 24th EFC conducted their Marketing Network meeting with a guest speaker Anton Morrision from Appnovation presents on the topic of "Integrated Marketing", . EFC also shared information on EFC programs.
EFC also introduced Meena Bajwa, Schneider Electric as the new Marketing Network Chair and thanked Tom Mason, Sonepar, for his leadership, dedication as Chair and congratulations as he moves onto a new role at his organization.
Go HERE to view the recorded presentation.
You can find the following HERE:
Research reports from Appnovation and the meeting presentation deck. To reach Anton Morrison for more information, please contact antonm@appnovation.com.
Meeting presentation deck with information on EFC programs.
Special offer from our October 2020 speaker, Brian Gencher- Brian Gencher brian@gencherinsight.com
EFC Scholarship Materials to promote to your employees, vendors, customers, family & friends
Next meeting: June 23rd @ 1pm EST.