IDEAL Networks Expands Rep Agency Roster in Canada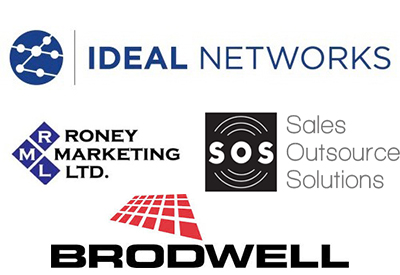 Feb 12, 2020
Roney Marketing, Brodwell Industrial Sales and Sales Outsource Solutions Group have all been newly appointed to deliver professional sales and support for data cable and network installers in Ontario, Alberta and the Atlantic Provinces respectively.
Meanwhile, Contact Delage, which previously handled IDEAL Networks when the company was part of IDEAL INDUSTRIES Inc., will provide representation in the Province of Quebec, including the Ottawa Valley. Similarly, GB Agencies will continue to serve Manitoba, Saskatchewan and North West Ontario, and Adanac Sales will maintain its coverage of British Columbia.
This brings the number of Rep agencies providing coverage to IDEAL Networks' customers across Canada to six, helping to best meet the needs of channel partners, installers and technicians.
"With our strong foundation and innovative, new products, we are making sure our customers and distribution partners across Canada receive the very best service, support and solutions," says Jim Hunter, Vice President of Sales for North America. "We are pleased to have a network of strong Rep agency partners that will provide local coverage for our full portfolio of industry-leading test and measurement products."
With its Rep agency partners, IDEAL Networks provides a wide choice of innovative testers to help network technicians and cable installers to improve accuracy, productivity and profitability. For instance, the company recently introduced the LanTEK IV cable certifier which introduces a completely unique, future-proof way to certify data cable and sets a new standard for this product category. This followed the 2019 launch of PoE Pro for installing, troubleshooting and maintaining PoE devices and data cabling, and NaviTEK IE, the handheld network tester designed for use with PROFINET Industrial Ethernet networks.
Go HERE for more information