Ideal Announces Two New Appointments to their Industrial and Electrical Sales Teams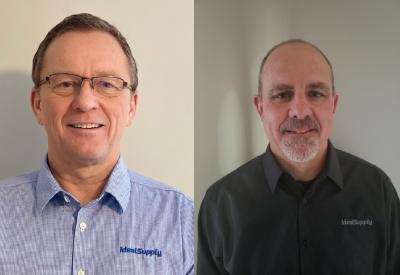 Aptil 26, 2021
Ideal Supply is proud to announce that as of January 1, 2021 they have appointed a new Sales Manager for both the Electrical and Industrial divisions.
Wayne Long (left) will serve as thier Electrical Division Sales Manager. Wayne spent 11 years with Ideal Supply in the early years of his career, and was with Benshaw Canada for 20 years in senior sales management roles in Canada and the USA before re-joining Ideal in 2017, as thier Industrial Division Sales Manager. Long is a seasoned executive and has a proven track record of building strong relationships with customers and suppliers, and as a coach to sales teams to grow businesses.
Jim Bender (right) will serve as their Industrial Division Sales Manager. Bender joined the Ideal Supply team in 1994, and has held various roles during his tenure at Ideal Supply. He has managed their Automation Group since 2000 and has been a great source of strength and leadership in this facet of the company. His exposure to industries throughout their trading area positions him well for the challenges of leading our Industrial Team as they bring the company's broad, and changing array of products and services to the industrial market.
If you have any questions, please contact pmackie@idealsupply.com