Howie Pruden – Entrepreneur at Ideal Supply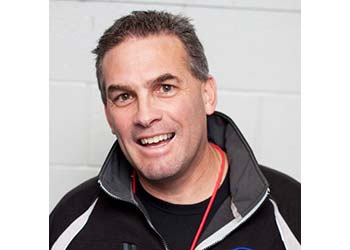 Ideal Supply has been operating since the mid 1920's and its ability to adapt, grow and change to meet the opportunities it was presented is a hallmark of its history. So too is the ability of the management of the company to attract, nurture, develop and encourage its team from within.
Howie Pruden loves Ideal Supply as if it was his own and is a perfect testament to what John MacDonald saw in him when he hired Pruden 35 years ago in 1979.
Meeting with Pruden in his office in Listowel, one immediately saw the sense of his family though out evidence by his children's wonderful art and family pictures.  
Born in Portage la Prairie Manitoba Pruden's father, an accountant, had him pegged for one of two careers; one as an accountant, the other as a member of the Royal Canadian Mounted Police. Clearly his father understood early on that discipline and focus was part of his sons DNA.  But the entrepreneurial side of young Howie also was evident at age 7 when he worked hard selling newspapers for the Winnipeg Tribune both to his existing route and outside when bonuses were paid for any paper sold. 
When Howie's father got a position with Campbell's soup in Ontario, the family moved to Listowel. Here Howie's father not only held down a career position but also worked tirelessly to bring the Jr. B hockey Cyclones to town. Sports were always in the background as Pruden grew up and a snap shot of the past shows how well laid the foundation was laid and the lessons learned from being the new kid at a 1200 student school did not hurt either.  Fearless might come to mind. 
Pruden entered The University of Waterloo in 1977 and took computer science another evidence of his disciplined approach and outlook. Clearly he did crave thinking out of the box and decided early on any thoughts of forensic accounting where his father hoped he might go were not going to happen. Looking for a job once university had ended, at a time when the recession in the late seventies was at its worst, Pruden arrived outside a Canadian Tire store where hundreds of people were lined up. Undaunted he stayed in line.  A battery of tests, and interviews yielded an offer to take on a leadership position in the automotive counter.
Late in 1979 a family friend, a controller at Ideal Supply, opened a door for the opportunity that launched Howie Pruden's career. With the daily commute from Listowel to Kitchener beginning to take its toll Pruden was intrigued by an chance of an Interview with John MacDonald, Ideal's President, who offered a junior buyers position in electrical and industrial.
Pruden's apprenticeship under the eyes of Al Weekes and Bob Smith proved that Pruden had the insight and drive. Here he learned well about buying better and driving margins. But Pruden's inquisitive nature took hold and often when time allowed he would take the initiative to go out back to the warehouse and understand and learn the business. In the early 80's the warehouse operation was struggling to keep pace with the growth at Ideal and there was a lot going on in the business. The growth in branches, need for shipments to be more frequent the breadth of product and the diverse operation was a more complex model than many had anticipated.
Howie wanted to help but the tempered management style John MacDonald brought forth was evidenced in his reminder to Howie Pruden that when his present responsibilities were running at 100% he could look at other opportunities within Ideal. Clearly that fired up the competitive juices MacDonald wanted, Howie worked extra hard to collaborate and develop a plan with the entire team to become ever more effective and efficient.
The plan researched the market and built a proposal based on the foundation of building partnerships.
Today that experiment has paid big dividends for Ideal as Pruden's responsibilities encompass a 100+ truck fleet that drives the business and Ideal's competitive edge and not surprisingly his mandate at Ideal still includes purchasing as well.
Pruden's style is engaging but confident and under his leadership some industry leading precedents are quickly becoming benchmarks for success across the industry. The Leverage of the trucking assets and the move to adopt route optimization concepts has allowed Ideal continued sales growth without having to add to the fleet or infrastructure. Uncovering the opportunities that existed with the overlaps in delivery schedules and the previous force of habit mindsets gave Ideal many new opportunities. In one case levering the logistics system, Ideal was able to deliver an urgent contractor order from the manufacturers dock to the client jobsite in less than four hours. Savings in costs and service levels that are hard to beat have made Ideal a strong partner for many of its 13,000 customers. 
With the logistics in place the dividends did not stop there. Driven by a solid understanding and commitment to the client needs and the needs at Ideal, Pruden has also pioneered Ideal Supply's entrée into the world of wire distribution for its branch network. Realizing the leverage if the buying power and understanding the present constraints of the current warehouse, Ideal has invested in its own wire facility allowing for more efficient buying, and selling opportunities for all its branches.   
Pruden believes in partnerships "Vendors need to win too" he commented as he explained the oversight of Ideal's current 900 vendor partners. Using his understanding of the interrelationship between sales and purchasing Pruden drives hard and is most committed to building strong vendor ties. Regular vendor valuation sessions that include Ideal buyers, marketing and sales staff alongside the vendor representatives ensure all the bases are covered on both sides of the desk to ensure at the end of the day the targeted customers are being served at the highest levels. 
And when the day is done at Ideal, one can find Pruden, working in the community with the local Woman's Hockey association or volunteering as President of the Listowel Curling club or at home curled up with one of seven books he reads every month. 
Men like Pruden are always engaged and ready to turn any idea in to one that contributes and impacts positively. And it's clear the impact of his upbringing and life experiences guided by a few steady hands along the way clearly taught him the right balance between risk and innovation, reward and engagement, motivation and result.