Southwire Canada President Tim King: A Leader in Listening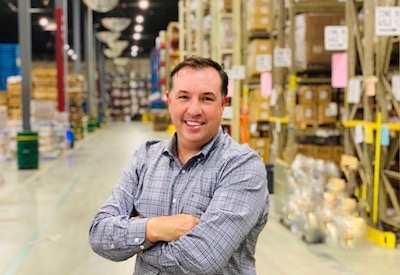 Sept 10, 2020
By Line Goyette
Tim King, Southwire Canada's new President and first Canadian to assume the role, has taken the helm in the midst of the midst of the COVID-19 health crisis.
Previously, Tim served as Southwire Canada's Director of Finance, HR and Administration. He has a background in economics and finance from Wilfred Laurier University. As a student, he was convinced that having a solid understanding of finance and economics would be an essential foundation to build his professional future. Over the course of his career, he purposefully acquired a broad range of skills, experience and knowledge to succeed in his new role. "I've had the opportunity to have worked for two large Fortune 500 corporations and I was very fortunate to have been exposed to many areas of the business. In fact, I have held 9 different roles in 15 years, in finance, operations, marketing and sales."
What have been and will be your first challenges at the helm of Southwire Canada in the context of the pandemic as employees and partners work from home?
"I've been working closely with Norman Adkins, EVP and the rest of Southwire's leadership team to help me prepare for this role. Canada is such an important part of Southwire's business and we all want to make sure this transition was seamless, so I am ready.
"Throughout it all, our employees and partners showed resounding resiliency and a positive attitude. My immediate attention in assuming this role in the middle of a pandemic was to make sure employees were staying safe and we were doing everything possible to help our partners keep running. At the onset of the pandemic, there was a steep learning curve, both for our employees and partners, on how to effectively communicate with each other and work from home. As for what the future looks like in terms of working from home, to be honest, I am not sure, but I do know we will continue to shape our organization in a way that makes the most sense for our employees and partners."
As the first Canadian president of Southwire, what will be your focus moving forwards?
"I will be focusing on three things, the first being our relationships. It's so important in our business that trust and integrity be the cornerstone from which we build our relationships — with our employees, our partners and the communities we serve. Secondly, I want to focus on 'Ease of Business,' with the customer being the focal point of everything we do. A big part of that is getting back to basics and doing that well. And thirdly, I want our whole organization to continue to work really hard together to provide an inclusive and diverse culture and workplace where everyone is respected, feels valued, and receives positive encouragement."
Tim, in your new role how active do you plan to be in the sales process?
"That is a great question. I have a lot of trust in our sales leaders; we have a very capable and experienced sales team that will report directly to me. It's a big change and one less layer but critical for our organization to be more agile and responsive, and serve our customers better in the future. Another area of focus will be around digitalization. Southwire has a solid digital foundation because we made investments in a world class IT platform. I will be focusing on how to better leverage this platform and IT tools, and use data and analytics to better understand the markets and customers we serve."
In that context, how important are electrical agents to your plans?
"Agents will continue to be an important part of our growth strategy and we are fortunate to have very good agents coast to coast. Canada is a big country and the markets and customers in each region are unique, and with the help of our agents we are able to reach deep into these regions in order to serve them better."
The wire and cable industry seems by nature to have a short-term future. Do you agree?
"I think the wire and cable industry has an exciting future. Just take healthcare for example, which is on the minds of everyone now. The healthcare industry will need to reshape themselves and modernize to be better able to handle the next pandemic, minimize disruptions, and improve overall patient care — this includes the ability to quickly flex up healthcare services, including mobile health units, and create new infection control technologies. This will require unique and innovative solutions from our industry and that is why I feel so positive. Southwire has a long history as an innovative company that develops products and solutions to adapt to these challenges."
I ask Tim if he has any advice for young people joining the industry.
"I would first encourage young people to actively seek out new opportunities and challenges to develop their knowledge and experience. Be open to special projects and lateral moves within your organization, especially in other functional areas — it's a great way to learn, gain experience and gain broad exposure to all parts of the business.
"Secondly, find a work-life balance that works for you. I have two great girls named Emma and Lauren. They are both very accomplished dancers and I made a point never to miss to any of their dance competitions over the years. No matter how busy I am at work I always find a way to be there in the front row when they walk on stage.
"Another piece of advice is to take the time to find your own voice within your organization by staying true to yourself. I grew up in rural Cape Breton Island in a large family. My father was my most important mentor who taught me a strong work ethic and the importance of friendship and honesty in business. He also passed along his early start to the day (typically beginning the day at 4:00 am) and his good genes from Cape Breton (he says with a laugh)."
Line Goyette is Managing Editor of Kerrwil Publications' Electrical Group;linegoyette@kerrwil.com