Will Green and Matt Cleary Discuss Relationship Building, Transition and Supporting Eaton's Channel Partners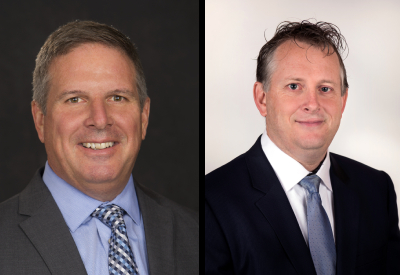 Sept 15, 2020
By Blake Marchand
In July, Eaton announced that Vice President, Channel – Electrical Sector, Matt Cleary (pictured on the left) would be retiring after 40 years with the company, and Will Green (pictured on the right) was appointed as his successor. CEW sat down with the colleagues and friends over the phone to discuss their relationship, the transition as well as gain insight into their views on the industry.
Cleary joined the company in 1981 as a sales engineer, working his way through various roles of increasing responsibility. Green, who previously served as Vice President, U.S. Channel Operations and U.S. Sales, North American Sales, has been through a number of customer-facing roles, spending time in marketing, sales, operational, and leadership roles over his 17-year career with Eaton, which includes running one of its plants in Chicago and leading a sales team out of Dallas.
Green has now taken over for Cleary as of September 1st.
"That role has responsibility for all electrical wholesale distributors in the U.S. in terms of national account relationships, regional account relationships, creating policy, programs to drive growth, implementing rebate programs, managing all of those fun activities," explained Cleary.
The transition from Cleary to Green seems to be a natural progression. The two have worked together in various roles since Green joined the company and have worked closely in recent years.
"We've known each other for a long time and stayed fairly close," said Green.
Both Cleary and Green noted having this overlap period is unique, but one they felt was important for Eaton's distributors.
"Our channel partners are so vital to our success, we wanted to have as seamless a transition as we could. This isn't always the case, that we get this overlap, but the reason we did is because of our channel partners," said Green.
On the mentorship from Cleary, Green said this: "From my standpoint it's invaluable, certainly, not only in the last year, but over the past 17 years that I've known Matt. He's been a big help to me in learning how to deal with some of the complex commercial situations; noticing his pragmatic, calm demeanor, that's been a big take away; the ability to keep things on a wider scale, he has good ability to inject a little levity into situations where its needed. Also, I think what he has really demonstrated is a close connection to our customers and to our partners, there's just no substitute for that. Taking the voice of the customer, asking them the questions, getting that feedback has really helped determine our strategy."
In discussing best practices with respect to retirements and succession, Cleary explained Eaton does a good job at identifying succession plans for their key roles. "Annually or semi-annually, we have a process where we identify candidates to backfill key roles and assess candidates from a readiness standpoint, and determine what sort of development activities they may need to engage in order to prepare them to step into that role. Generally, when the time comes, we're prepared with a slate of candidates. That also gives us a chance to talk about the diversity of the candidates, to make sure we're considering all potential candidates to be as diverse as we can be."
When it comes to customer facing roles, Cleary said it can be good practice to look internally. One reason is that Eaton likes to develop their own talent, but it is also an easier transition for the customer. And when the person being replaced remains in the company, it makes it that much easier for the customer.
"The hardest thing for someone from the outside to do is to figure out how to navigate the waters of a complex business like ours," Cleary noted.
"But if we can't find the right candidate internally, we certainly look outside."
Which is also important when it comes to becoming more and more diverse.
Green added that, "there are some roles we have where we specifically want to go outside, because we feel like we need a different perspective and when you think about something like an e-commerce type solution, that's where we're apt to consider somebody who has a completely different view of this or experience from other industries"
"But to Matt's point, for a lot of our customer-facing roles, we have found if you can stay internal, it certainly helps the transition."
When it comes to his new role at Eaton, Green is excited for the opportunities and challenges ahead.
"Continuing to get to work with our channel partners, our sales teams, and our sales agents is the exciting thing for me, I think those are the key differentiators for Eaton in the market. Continuing to get to work with them and help shape that strategy is the part that's most exciting for me," said Green.
"From a challenge standpoint, we've got a few, even if you just look at our current environment. What is our new norm going to look like? In terms of e-commerce, for example, how do we transition relationships with partners, who are our life blood, to help them become even more productive and efficient on a digital platform?"
CEW also asked Cleary and Green about some of their efforts to support their partners during COVID-19.
Like a lot of companies, Eaton offers business development funds to their partners, they explained. With the added costs for distributors of working through the global pandemic, Eaton made those funds available to help bridge the gap.
"Early on, we saw there was a lot of this money sitting on the sidelines, as many of the planned activities were being postponed or eliminated. At the same time, we saw our distributors were spending a lot of time and money figuring out ways to continue to support our customers, while protecting their employees," noted Cleary.
"They were spending a lot of money on personal protective equipment, on counter shields, curbside deliveries/pickups. We wanted to acknowledge what they were doing in supporting our customers. We thought the best way do that was to allow them to claim those development funds."
Eaton's distributors were able to claim up to 20 percent of their annual funds to assist with the added costs of operating throughout a global pandemic. This unique program is emblematic of Eaton's approach with their channel partners, as well as the Green and Cleary's customer-driven approach.
Both Green and Cleary stressed that meeting the needs of customers and partners is central to Eaton's strategy. That is why it was important to have this overlap as Cleary retires.
In speaking with Cleary and Green, the respect they hold for one another is evident. They both emphasized the importance of mentorship, friendship, and the intangibles of business life. Cleary's list of credentials and expertise is robust. For Green, a distinguishing quality of his managerial style is in building relationships. Greens' ability to cut through the stress of everyday work-life will put his team in a position to succeed.