Hammond Power Solutions Inc. Completes Acquisition of Mesta Electronics, Inc.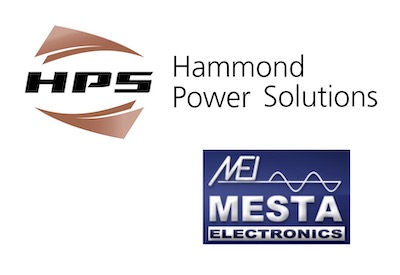 July 28, 2021
Hammond Power Solutions Inc. has acquired a 100% equity ownership of U.S.-based Mesta Electronics Inc. Mesta is involved in the design and manufacture of standard and custom active filter and induction heating products.
Mesta will operate as Mesta Electronics Inc., a subsidiary of Hammond Power Solutions, Inc. Mesta's annual revenues are expected to be approximately $5,000,000.
"We are very pleased with the Mesta acquisition," says Bill Hammond, Chief Executive Officer of HPS. "This company broadens our product offering and manufacturing capabilities in power quality solutions. Mesta has an excellent reputation in the electrical industry for its standard and engineered to order capabilities and quality."
Hammond Power Solutions Inc. is a North American leader for the design and manufacture of dry-type custom electrical engineered magnetics, electrical dry-type and cast resin transformers. Leading edge engineering capabilities, high quality products and responsive service to customers' needs have all served to establish HPS as a technical and innovative leader in the electrical and electronic industries.
HPS has operations in Canada, United States, Mexico, and India.