2023 AD Canada Annual Meeting's Spirit of Independence Awards Celebrates Both Members and Suppliers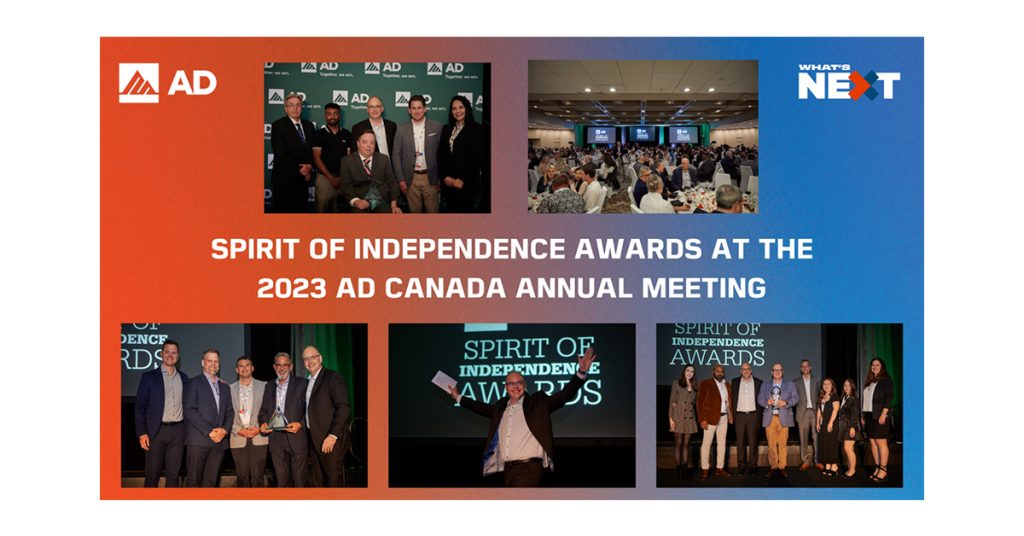 July 17, 2023
By Haly Baran, Marketing & Communications Specialist, AD Canada
In celebration of the independent spirit, the recent AD Canada Annual Meeting (which occurred June 19-22, 2023) featured a series of recognitions honouring members and suppliers within AD Industrial & Safety – Canada and Building Supplies – Canada divisions that have displayed outstanding efforts throughout the past year, which have resulted in market share growth.
The following organizations were recognized during the conference's Spirit of Independence Awards.
The 2023 AD Giving Back Awards were presented to Tenaquip / the Tenaquip Foundation and OCP Construction Supplies for continuing to lead by example by way of displaying a powerful sense of integrity—making the success and health of their community a top priority within their respective organizations.
Milwaukee Electric Tool (Canada) Ltd., Brady Corporation, Bailey Metal Products Ltd., and ROCKWOOL were each honoured with the 2023 AD Supplier of the Year Award for their remarkable efforts in supporting AD's member base. These suppliers are dedicated to attending all AD divisional meetings, participating in the AD Supplier Webinar Series, offering exclusive promotions to AD members, and providing in-house training. Each of these organizations has also displayed phenomenal year-over-year growth.
Purolator was recognized as the 2023 AD Canada Service Provider of the Year, for consistently going above and beyond for AD Canada's valued members through supporting their unique needs and ensuring their satisfaction by delivering exceptional service in every sense of the term.
The 2023 AD Canada Warehouse Supporter of the Year, Member honoured Charles Jones Industrial Limited, Intercity Industrial Supply Limited, Northern Metalic GP, SB Simpson, SPI Health and Safety, Source Atlantic, and Vallen for continually showing support for the AD Canada Warehouse and its suppliers in a myriad of different ways—including through volume growth, overall commitment, breadth of lines and prominent levels of engagement.
The 2023 AD Canada Warehouse Supporter of the Year, Supplier recognized vendors, DuPont, Lloyds Laboratories, and Prime Wire and Cable for displaying an exceptional commitment to AD Canada's distribution centre operations—supporting its members while working collaboratively with AD to drive their programs forward.
The coveted 2023 Member of the Year Award was given to Source Atlantic, Le Groupe J.S.V., Crown Building Supplies, and ADSS Building Supplies for the organizations' steadfast commitments to the AD community, including through AD meeting participation, supplier webinar attendance and engagement, board and committee participation, and remittance volume growth.
AD congratulates each winning organization and commends them for their tireless efforts and strong dedication to the community.