Guillevin Greentech Delivers Custom Solutions & Reliable Inventory with Decentralized Model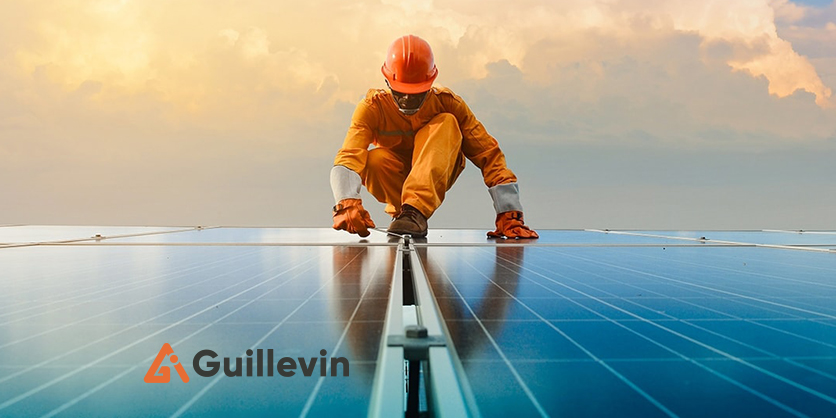 February 27, 2023
Guillevin Greentech is one of Canada's largest distributors of renewable energy solutions. Established in 2016, this division of Guillevin offers Canadians everything they need to achieve their green tech goals through years of expertise, experience and service, as well as the company's access to reliable inventory. We sat down with experts Ndiaga Mbaye, renewable energy specialist and Viviane Lapointe, external sales representative to discuss Guillevin's Greentech division, their custom design solutions for solar or EV installations, and their thoughts on the future of green technologies.
Guillevin Greentech is a distributor of clean energy solutions for commercial, residential, off-grid, grid-connected and hybrid projects. In Quebec alone, Guillevin has 26 branches with large inventories, and many more in the rest of Canada that support its decentralized model, allowing customers across Canada to quickly access inventories.
Lapointe joined Guillevin Greentech last April as an external sales representative specializing in charging stations, solar streetlights, and solar cameras. Mbaye specializes in off-grid solar systems.
What would you like people to know about Guillevin Greentech?
Mbaye cites an abundance of inventory and many locations in the region as a strong focal point for Guillevin Greentech.
"That's the advantage we have, because anywhere in Quebec," he said, "we are able to provide services because we have points of sale everywhere [in the region]. The inventory we currently have in the field of renewable innovations here in Quebec, we are the only company that currently has it. Also, it is the Greentech network. It is this network that is our strength because everything we do not have in stock, the other [warehouses] can have it in stock and we can have it very quickly."
With supply chain issues showing no signs of slowing down in 2023, access to these products can be critical for urgent projects. Whether for individuals or an entrepreneur, having a solid supply of on-demand renewable technologies is a major asset in today's turbulent economy.
Lapointe points out that Guillevin's stock of charging stations is unmatched by other suppliers in Quebec in terms of quantity.
She says, "There are a lot of stock-outs and there's a lack of inventory. People call everywhere to try to find them. We have hundreds and hundreds of commercial charging stations in stock, and many pallets of residential charging stations. It's very rare that we don't have what customers want, whether it's an electrician or an individual."
Another advantage of Guillevin Greentech mentioned by both is the fact that the client can work with them from start to finish for a turnkey service, without going to a competitor. Mbaye highlights the turnkey service offered by Guillevin: "Everything the customer needs", they can get it at Guillevin. "So, we can provide everything related to renewable energy to their project."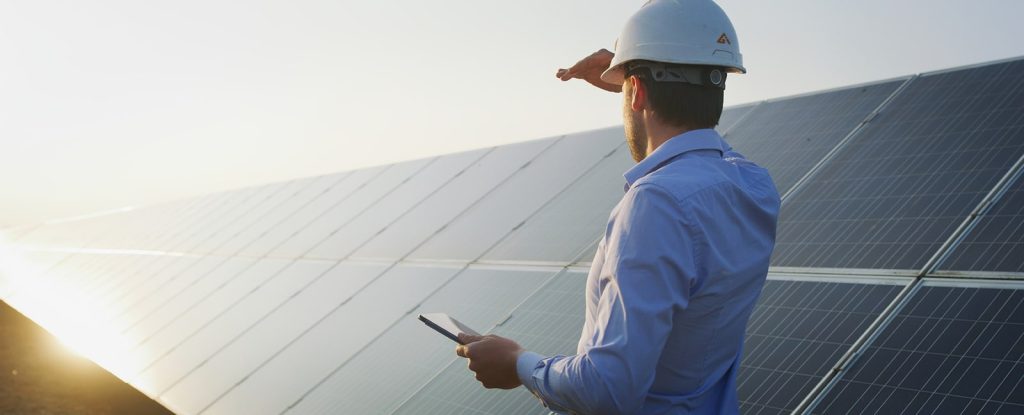 Regarding the development of customized greentech design solutions, we asked Lapointe and Mbaye to guide us through a hypothetical consultation. When a customer is looking to make a solar installation with a charging station in a residential home renovation, for example, what should they consider?
Each of them broke down their answer according to their respective specialty. For Mbaye regarding solar installations, he says: "I collect the customer's information. I first make sure to make an inventory of the customer's equipment to calculate their energy consumption. Then I check the location of the project and check for potential shadows based on where the installation will be. The next step I do is the dimensioning of the system and then choosing the different components and adjusting the sizing of the cables necessary for the installation. Finally, I make a solar system proposal to the client."
He reiterated that all projects are carried out on a case-by-case basis and that each project depends on the client's needs. When a client starts their project, specialists like Mbaye and Lapointe have designed a form that collects all the relevant information of the client — from their energy consumption to the location of their home. The final proposal is then made according to the equipment available to Guillevin.
Projects can quickly get complicated, because "Someone who comes to us just to power a few lights with 12 volts is not the same as someone who comes to us to power his entire cottage with a solar system," explains Mbaye.
For Lapointe, the answer is a little simpler. When installing residential EV charging stations, pay attention to the level of amperage your home can maintain while simultaneously using other devices.
She says it's essential to ask even the most basic questions when working with customers, as "often the client doesn't know what [devices] they want to power" in terms of electrical appliances. She continues: "They don't think, 'Do I want my wife to use her hair dryer or coffee maker?' Sometimes a single element can change the whole operation, which will change how we approach a project and the materials necessary for it."
When consulting an electrician on a greentech project, what types of questions do you ask about the project when developing a custom solution? What training or knowledge is required of electricians?
Both specialists insisted on the importance of good training, above all.
According to Lapointe, "If there is one word you want to add at the beginning of what distinguishes Greentech from the competition, it is training. Training is extremely important to us."
The first thing to note in a solar installation, according to Mbaye, is that both the electrician and the customer must be aware that everything you can do with Hydro, you can't necessarily do with a residential solar system "because you're limited in the power of the equipment."
With solar products, Mbaye says that "the electrician is also sometimes like the end customer" because most electricians do not have a background in solar energy. He continues, "The DC current of the solar panels and the AC current are not the same."
When the electrician sends the details and information of the project to the Guillevin team — to people like Mbaye and Lapointe — they will create a system design for the client project and then pass it on to the electrician to create a proposal for the client.
For electricians without much experience in the solar field, Guillevin Greentech has pre-wired systems where the majority of the installation is already done, and all the equipment is properly connected. The electrician just has a few connections to make. "It makes installation easier," says Mbaye, "That's the kind of system we offer to electricians who don't really know about solar systems."
Lapointe emphasized the importance of training for the electricians they work with. In order to install commercial charging stations, an electrician must pass an exam via the ChargePoint platform. "We can't take just any electrician," she says, "they have to pass their ChargePoint diploma for our Level Two commercial charging stations."
Level Three charging systems have the same examination requirements as Level Two systems, but the Level Three chargers are more complex.
In general, the questions are similar for the customer and the electrician. In fact, she says, "what happens a lot is that I set up a meeting with the electrician, the end customer, and myself. I train both at the same time. It is important that they are all on the same page, "because we easily have 10, 12 steps before we get to the end, at the conclusion of the project."
Lapointe will oversee the project from start to finish, until the charging station is activated. Solid training is of the utmost importance to carry out a successful project, which is why Guillevin Greentech attaches great importance to it, both for electricians and individuals.
When it comes to new green technologies, are there any trends that electricians should be aware of?
Mbaye and Lapointe agree that some of the most interesting and important aspects of these new green technology systems are the increased communication and accessibility of a system from the Internet. Installers sometimes don't even need to go to the site: they can access the customer's system from an online portal and make the necessary adjustments, "so they can solve technical problems without going to the jobsite," says Mbaye.
"When it comes to charging stations, streetlights, solar cameras," continues Lapointe, "everything is really connected via your phone. That's what makes electricians love it."
Even for individuals, these advances are appreciated. With data accessible at your fingertips, you can get a live view of what's happening on your camera or watch the power consumption of your solar streetlight. According to Lapointe, the same principles apply to EV charging stations. You can check how many people have been there and know their type of car. Is there a power outage somewhere in the system? Look at the data for the last three days and check the energy consumption.
What's most exciting for you in the industry right now? Are there any regulatory changes you hope to see to advance green technologies?
According to Mbaye: "I am a fan of sustainable development. In doing this work, I try to make my modest contribution to the necessary change in society to prevent further global warming."
On the regulatory front, Lapointe and Mbaye hope that the government will invest more in green technologies, particularly in the areas of solar and electric vehicles. For electric vehicles, Canada has adopted regulations requiring 100% of passenger car and truck sales to be zero-emission by 2035. However, supply must be there to meet consumer demand. Lapointe says she'd like to improve "the charging subsidy mentality." She cites the recent subsidy agreement between the Quebec government and Hydro-Québec and the private sector for Level Three charging stations as an example of a good program, but that it also has a limited scope and will require more as we move towards 2035 and execute the green energy transition.
"We are the future," Lapointe concluded, "That is what's really rewarding because you feel useful."
"There is more interest in this technology from everyone, and we continue to light cities, towns, municipalities and regions as a whole."
Go HERE for more information on Guillevin Greentech.