Electromate Inc. Re-Certified as a Great Place to Work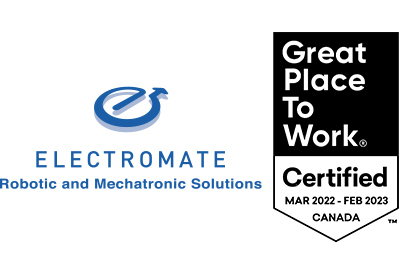 April 18, 2022
Electromate announced that they have been re-certified as a Great Place to Work after a thorough and independent analysis conducted by Great Place to Work Institute Canada. This certification is based on direct feedback from employees, provided as part of an extensive and anonymous survey about their workplace experience.
"Electromate is honored to be recertified as a Great Place to Work. Creating a 'Great Place to Work' has been pivotal in driving employee satisfaction and engagement, which directly results in driving customer satisfaction and revenue", says Warren Osak Founder and President of Electromate.
"The success of our organization is nothing more that the collective capacity of our people to create immense value. Over time I've come to learn that Culture isn't a thing – it's THE THING."
"Electromate prides itself on its commitment to the principles of Kaizen, or continuous improvement. This holds true for the professional and personal development of its employees which has greatly contributed to the creation of our great workplace culture embodying the Core Values of Integrity, Innovation, Enthusiasm, Continuous Learning and Customer Advocacy" says Warren Osak.