Electro-Federation Canada Announces New Chair and Board of Directors for 2021-22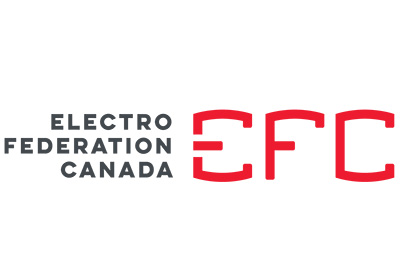 May 17, 2021
Electro-Federation Canada (EFC) once again held its Annual General Meeting virtually this year on May 11, 2021, which saw an update on key initiatives and the welcoming of a new Chair and election of the 2021-2022 Board of Directors.
Carol McGlogan, President & CEO, EFC shared key highlights from the past year and provided a summary of the programs available for members.
EFC also announced its 2021-22 Board of Directors, including the appointment of David Nathaniel, CEO, Ascot Capital Group, as EFC's Chair. David has served on several EFC committees, including as Chair of EFC's National Advisory Council and continues to serve on EFC's Executive Committee. We are excited to welcome David to the role of Chair and look forward to his contributions.
EFC also extends a special thanks to Roger Little, Rexel Canada Electrical Inc., who has served as the Board Chair for the past year.
The complete list of EFC Board members for 2021-22 is as follows:
* Have another year to serve in their two-year term
** Nominated for re-election
*** Member of the Executive Committee
| | |
| --- | --- |
| David Nathaniel*** | Ascot Capital Group |
| Frank Cistrone*** | Shawcor |
| Roger Little*** | Rexel Canada Electrical Inc. |
| Carol McGlogan*** | Electro Federation Canada |
| Renee Lytle*** | E.B. Horsman & Son |
| Umesh Patel*** | Eaton Industries (Canada) |
| Eric Deschenes** | ABB |
| Greg Stephenson | Bartle & Gibson |
| Wayne Davies* | City Electric Supply |
| Patrick Deschamps* | Contact Delage Inc. |
| Jennifer Eastman | CSC LED |
| Jody Macdonald | Eddy Group |
| Kim Quelch* | Eglo Canada Inc. |
| John Jenner** | Electrozad Supply Company Limited |
| Cara Backman | Franklin Empire |
| Joanna Kwant | Gerrie Electric |
| Jason Taylor | Graybar Canada |
| Luc Rodier* | Guillevin International Inc. |
| Catherine McKeown | Hammond Power Solutions |
| Kevin Mallory* | Hubbell Canada |
| Steve Branscombe** | Independent Electric Supply |
| Jason Prevost | Leviton Canada |
| Louis Beaulieu* | Ouellet Canada Inc. |
| Roger Hallett | Phoenix Contact Canada |
| Adrian Thomas | Schneider Electric Canada Inc. |
| Tim Gibson | Siemens Canada |
| Todd Walford** | Sonepar Ontario Canada |
| Tim King | Southwire Canada |
| Pierre Legare | Viscor, Inc. |
| Michael Gross | Wesco Canada |
| | |
The following Chairs of EFC councils were also appointed as directors. The terms of service on the Board are coincidental with their service as Chairs of their councils.

National Advisory Council
Cindy Doherty, Intralec Electrical Products
CEMRA
Brent Norrey, Roney Marketing
Finally, EFC extends a very special thank you to the following members have completed their term on the Board:
| | |
| --- | --- |
| Nathalie Parisel | Anixter (formerly) |
| Mark Schroeder | Rockwell Automation |
| Sylvie Boileau | Dubo Electrique Ltee |
| Mike Hodges | Adanac Sales Inc. |
| George MacKinnon | Aztec Electrical Supply |
| Dag Nyhof | Ideal Industries Inc. |
| Ann McLoughlan | McLoughlan Supplies Ltd. |
| Trevor Elliot | Panduit (formerly) |
| Tim Rourke | Rittal Systems Ltd. |
| Javi Richmond | Weidmuller Ltd. Canada (formerly) |
| Dan Drazilov | AD Canada Electrical Division (formerly) |
| | |

For any questions or enquiries, please contact info@electrofed.com