Siemens awarded Canada's Volunteer Award by Government of Canada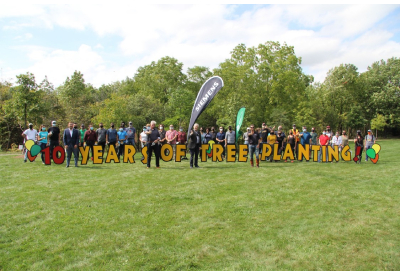 November 15, 2021
Siemens Canada is honoured to be among this year's recipients of the federal government's Canada's Volunteer Awards, announced recently by the Ministry of Families, Children and Social Development. The company, with offices and employees across Canada, is the Ontario winner in the Business Leader category for its commitment to planting trees and helping to restore natural urban spaces in communities across the country in partnership with Tree Canada.
"Congratulations to this year's Canada's Volunteer Award recipients, who have been an integral part of keeping Canadian communities engaged and supported throughout the pandemic. We owe all volunteers across Canada a massive 'thank you' for all they have done. Congratulations again to this year's award recipients," said Minister of Families, Children and Social Development, Ahmed Hussen.
Since 2012, Siemens Canada has been working closely with Tree Canada to address the need for the stewardship and extension of the urban forests across the country. Tree planting initiatives create vital habitat, protects groundwater, restores native species to the green area, and engages communities in environmental awareness. To date, 2,100 Siemens Canada volunteers have dedicated 4,200 volunteer hours to planted over 15,000 trees. In addition, Siemens Canada has contributed a total of $444k towards Tree Canada's Partners in Planting program.
"Trees have the power to improve people's lives. The social, psychological, and economic benefits of Canada's urban forests are worth preserving," said Faisal Kazi, President and CEO, Siemens Canada. "Our employees and their passion for this program have driven it from day one, and it's an honour to be recognized by our federal government for what we have achieved so far in restoring Canada's biodiversity, offsetting carbon emissions and beautifying the land."
"Tree Canada is dedicated to improving the lives of Canadians by planting and nurturing trees," says Danielle St-Aubin, CEO, Tree Canada. "We applaud Siemens Canada for their continued commitment to sustainable practices and for looking to plant trees as a way not only to mitigate the effects of climate change but also by encouraging the restoration of our urban green spaces so that all community members can reap their benefits. Congratulations on a well-deserved award. We look forward to our ongoing partnership and growing better places to live together."
The COVID-19 pandemic has not stopped the Siemens Canada dedicated team of volunteers from making a difference. This year more than 200 volunteers have planted more than 1,000 trees in nine communities across the country, while ensuring all safety protocols were followed including face masks, physical distancing, screening and sanitization in accordance with local authorities.
Siemens Canada's tree planting initiative has previously been recognized by the Town of Oakville with the 2018 Oakville Community Spirit Award and by Tree Canada as the 2019 recipient of the prestigious Eterne Award, an award honouring Siemens' outstanding commitment and contribution to the environment.