EFC's 2022 Distributor Corporate Engagement Award Recipient is Electrozad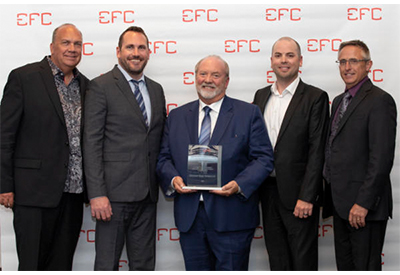 September 12, 2022
This year's EFC 2022 Distributor Corporate Engagement Award recipient is Electrozad. This recognition is presented to an EFC member company who have invested their talent and time to support the industry, lead the committees, participate in events while benefitting from the networking, education, and best practices that EFC has to offer.
Electrozad had the highest participation ratio of all distributors which demonstrates their support to our virtual programming in 2021. Electrozad has also been a long-time supporter of EFC in various leadership positions.
EFC spoke to William C. Smith, Chairman & CEO, John Jenner, CFO & COO, and James Taylor, President, and asked what this award means to Electrozad.
"This award celebrates our team's efforts which help contribute to improving our industry, keeping it competitive while positioning for the future. We are humbled to be recognized among the other great members who are also very active in supporting EFC and the electrical industry. Thank you, EFC team, for all the support and value that you contribute to generate for the benefit of our industry."
Nominating a company or individual for their hard work, dedicated to the industry, and successful accomplishments builds EFC's community to grow, lead and compete in an ever-changing world. Recognition can breed success.
To view other EFC Award recipients, click here.