E.B. Horsman & Son Donates $50,000 to the BC Children's Hospital Foundation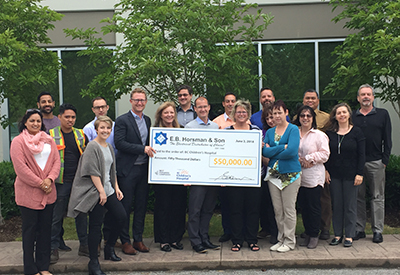 June 28, 2018
For the ninth year in a row, E.B. Horsman & Son presented a cheque for $50,000 to BC Children's Hospital Foundation (BCCHF) at the live televised Miracle Weekend Telethon on June 3rd, 2018.
E.B. Horsman & Son, now in its 118th year of operations, has supported BCCHF for over 26 years, fundraising and donating a cumulative total of over $847, 000!
Throughout the year, employees organized and participated in initiatives including staff payroll deductions, silent auctions, sports pools, poker tournaments, and Jeans Day BBQs. This year's Jeans Day events alone raised over $7,500 for BCCHF!
"We are proud that our donations help to ensure that the most precious members of our socidety – our children – receive the best possible care," said Tim Horsman, President & CEO of E.B. Horsman & Son. "We are proud that as an independent Western Canadian family business we have been able to give back to the families that have supported us. In reality it is as much about the dollars we raise as the effort we put in to doing something good to help those in need around us."
E.B. Horsman & Son remains commiteed to meeting or exceeding their $50,000 a year goal for the 2019 fundraising year and to working closely with the BC Children's Hospital Foundation on specific initiatives to support kids in need.