Doosan Robotics Announces Strategic Partnership with Industrial Automation Supply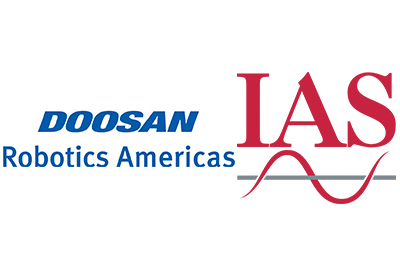 September 15, 2022
Doosan Robotics Inc. has recently announced it has formed a strategic partnership with Industrial Automation Supply (IAS), New England's only Phoenix Contact Automation Elite Distribution Partner. IAS will serve as partner and reseller of Doosan's M, H, and A-SERIES cobots across the Northeast.
Doosan's four M-SERIES cobot models, all equipped with six torque sensors in every joint, enable customers to experience advanced cobots offering the industry-leading safety and human-level dexterity in automation. These cobots have been particularly popular in Germany and the U.S. due to their versatile capabilities as well as their intuitive and easy application. The models have a working radius of 900 to 1,700 millimeters (35.4 to 66.9 inches) and a load capacity of 6 to 15 kilograms (13.2 to 33.1 pounds).
Introduced in 2019, Doosan Robotics' A-SERIES are characterized as the industry's fastest cobots. Performing with an average work speed of 10% over competitors' products, combined with an affordable price, the A-SERIES in unparalleled in ROI. The A-SERIES has four separate models (A0509, A0509s, A0912, and A0912s).
The Doosan Robotics H-SERIES lineup boasts the highest payload for a range of collaborative robot applications. The cobots in this series offer payload capacities of 20kg and 25kg with reach of 1700mm and 1500mm respectively.
"Strategic partnerships are the key to success for Doosan Robotics and with the addition of IAS we are continuing to expand our reach across the U.S.," said Alex, Lee, General Manager, Doosan Robotics Americas. "We look forward to partnering with IAS and a successful future together."
Doosan Robotics is currently in the top five robotics manufacturers in the world and the number one manufacturer in South Korea. With the release of the A-SERIES, Doosan Robotics now has the largest cobot lineup in the industry. The company recently announced its American expansion, with headquarters in Plano, Texas, at this year's Automate Show.
"We are extremely excited about our partnership with Doosan," said President Chris LeBel. "The collaborative robot market in the United States is growing and evolving every day, and Doosan is a truly special partner with so much to offer in the ever-expanding realm of collaborative robotics." IAS has been serving original equipment manufacturers in the Northeast since 1993. With a focus on the industrial automation market, IAS has built a strong customer base throughout New England. In 2017, IAS expanded its services into production with the Systems Group, IAS's panel production arm, which has led to the opening of a second location in Scarborough, Maine.
For more information, visit Doosan Robotics HERE, and IAS HERE.