E.B Horsman & Son Announces Jeff Janzen as Interior District Manager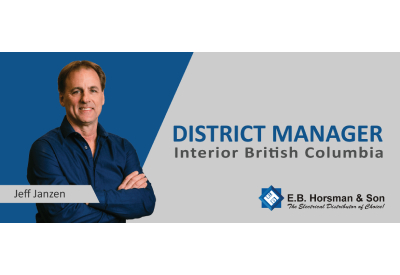 Dec 7, 2020
E.B. Horsman & Son (EBH) is excited to announce Jeff Janzen as the new Interior District Manager. In this new role Jeff will now oversee E.B. Horsman & Son's Penticton, Kamloops and Vernon locations and collaborate with the Interior branch teams.
Jeff joined E.B. Horsman & Son in March 1992 and held various roles, from Inside Sales at our Prince George branch, to Outside Sales at our Penticton Branch and lastly took on the Penticton Branch Manager role in 1996.
Under his leadership, the Penticton branch grew in Sales, Gross Profit percent, and Headcount.
Jeff was honoured with the Fortis BC Conservation Leadership award in 2009, and was awarded the E.B. Horsman & Son Giving Back Award in 2014 and 2019. His care and commitment to giving back to kids in need and his community set him apart. He started his Nascar grassroots initiative over 25 years ago and since then has raised over $20K for Children's Hospital through perseverance, teamwork, initiative and a little fun!