Deschenes Group Inc. Makes the Acquisition of Marcel Baril Ltée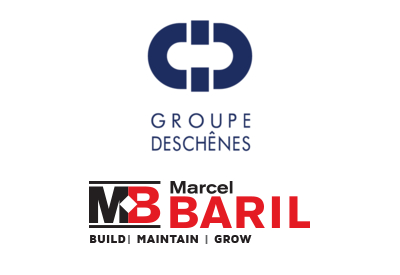 June 2, 2021
Deschenes Group Inc. (DGI) proudly announces the acquisition of Marcel Baril Ltée (Marcel Baril) effective June 1st 2021.
Marcel Baril is a distributor of hardware, plumbing, heating, ventilation, electrical, construction and industrial materials, HDPE, sewer and waterworks. The company serves the residential, commercial, industrial, municipal and mining markets. It operates five branches located in Rouyn-Noranda, Val d'Or, Mirabel, Gatineau and Sault Ste. Marie, and is supported by over 85 talented people.
François Deschenes, President and CEO of DGI, stated: "We are very grateful to the Baril family for giving us the opportunity to acquire Marcel Baril which has an enviable reputation. This acquisition allows us to expand our geographic coverage for products and markets in which we are already active. It also gives us access to the mining market where the outlook is very positive for the coming years. We are especially proud to welcome a talented and experienced team. As the company is already successful, no changes are planned in the short term in its strategy, operations or way of doing business. We therefore aim for a smooth transition, both internally for new members of our family and externally for its customers and suppliers."
For DGI, this acquisition is allowing, among other things, to have a presence in the Abitibi-Témiscamingue region and an access to the more northerly market. Marcel Baril will become DGI's 15th business unit and will continue to operate as it does now, under the leadership of its President Jean-Yves Baril and his entire team.
Jean-Yves Baril, president of Marcel Baril, stated: "It is with great pride that Marcel Baril is joining DGI. Our family business is joining another one that shares the same entrepreneurial values with its customers and suppliers. Our position in the Province of Quebec and Northern Ontario markets will bring new opportunities for DGI in terms of territory and expertise. Of course, for Marcel Baril, being part of the DGI team will be just as beneficial with the opportunity to introduce new product lines to our customers. A win-win situation for our employees, our customers and our suppliers!"